Wrangle Your Writing Supplies
As part of my back-to-school frenzy, I have been searching every junk drawer I have for just ONE of the hundreds of Sharpies I know I have bought over the years.  So I finally decided -again- to try to get organized. But I just couldn't stomach going out and buying yet another ugly, plastic container to store stuff in…
Luckily, it was just then I came across the fabulous blog Aunt Peaches – and found the very Fab & Fru answer to my Sharpie dilemma.  I know there are bigger problems in life, but after almost 8 years of never being able to find the proper writing implement when I need it, I am feeling cautiously optimistic about the coming school year…
Aunt Peaches' Ten Minute Marker Caddy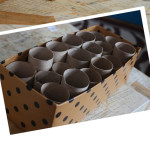 Aunt Peaches' Ten Minute Marker Caddy was a breeze to make – all you need is a shoe box and toilet paper rolls – how Fab & Fru is that?!
You just cut the rolls to the height of the box, and stick them in the box – no glue or any other adhesive needed! You can of course decorate the box any way you want – have the kids decorate it if you need to keep them busy for a minute or two.
I love having the rolls because they separate your Sharpies from your markers from your pens, etc.  Plus, it costs nothing and recycles garbage into something useful, so it's totally eco-friendly and frugal!
Thank you Aunt Peaches for the great idea – can't wait to check out your other Fab & Fru DIY projects …
|
Print