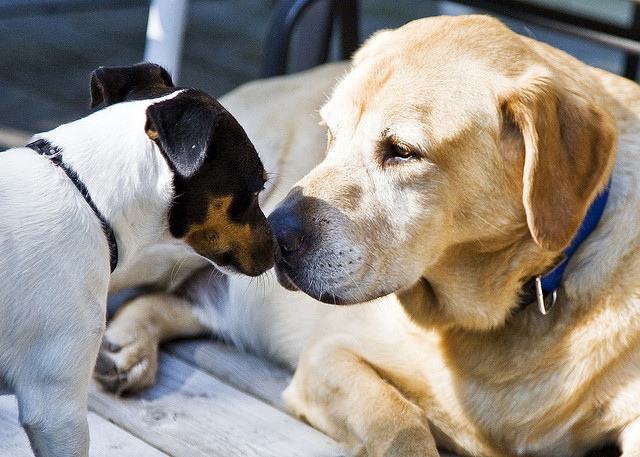 Kathleen and Hope are good friends and neighbors, and they'd like to think that their two dogs are too.  Kathleen's four year old Jack Russell Terrier, Mindy, has a love/hate relationship with Manny – Hope's 8 month old, 100 lb Lab mix.  The unlikely pair enjoy chasing each other through their backyards, but as big puppies do, Manny often takes it too far.  The Alpha dog of two, Manny's backyard roughhousing has left Mindy with the occasional scratch and a daily dose of afternoon terror.
Acutely aware that Manny may hurt poor Mindy, Hope is constantly trying to calm him down, but surprisingly, it's Kathleen who doesn't mind that her little dog is getting the brunt of Manny's 100 lbs of clumsy puppy love.  That is until…
Last week Manny was taunting poor Mindy to try and get her to play, but Mindy just wanted to lay under the tree in the shade. Not getting the hint, Manny tried to get a chase going, and Mindy just lost it.  She lunged through the air, landed on Manny's head, and took a terrier size chunk right out of Manny's left ear!
Hope certainly couldn't fault Mindy for going postal on her pup, but $500 in vet bills later, she was hoping that Kathleen would chip in for the bill. But Kathleen was totally offended when Hope brought up the idea, saying that it was Manny's fault he got hurt, and that she has never asked Hope to compensate her for any of the wounds Manny has inflicted on Mindy. It's just the nature of the beast… And next time it will likely be Mindy in the emergency room…
Is Kathleen right?  Should Hope never have expected that Kathleen contribute to the bill?  Or is Kathleen totally off base? What would you do?
Tell us what you think!
|
Print