by Alexandra Pauline – updated September 20, 2013

Nutritious & Delicious Kid Friendly Foods!
Politics aside, there's one thing we can all agree on: raising healthy kids.
First Lady Michelle Obama recently made headlines by imploring Americans to drink more water and less soda – not only healthy, but very Fab & Fru!  Of course, she's been working for years to combat the American obesity epidemic with her "Let's Move" campaign.  Since school is in full swing, it's a great time to reevaluate what you're feeding your children…
Remember – filling your kids up on seemingly cheap, processed junk will ending up costing them a lot – both physically and mentally.  The good news is, it doesn't take a lot of time or money to whip up these quick, creative and affordable Fab & Fru lunchbox favorites!
Ooh La Leftovers
Chicken has always been a quick go-to when it comes to dinner, so why not turn the leftovers into a lunchtime surprise?  Take their sandwich to the next level with our easy BBQ chicken recipe!  Cut up the leftover chicken, toss or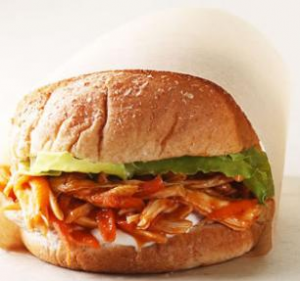 sauté it with thinly cut carrots and BBQ sauce, and serve on a whole wheat roll spread with a thin layer of Ranch dressing with your choice of lettuce, pickles or fresh spinach on top.  Not only have you snuck in some veggies, you've also harnessed the magic of leftovers from last night's chicken din!
1/2 cup shredded cooked chicken
1/4 cup shredded carrots
2 tablespoons barbecue sauce
2 teaspoons light ranch dressing
1 small whole-wheat sandwich bun
1 leaf romaine lettuce, 3 pickle slices or raw spinach
Snack Time Super Food
With winter on its way, oranges will soon be in season – so shake up your kid's lunchbox with cinnamon oranges!  Take a knife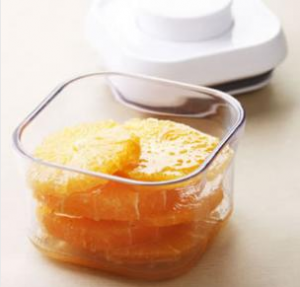 and remove the rind and white pith from the oranges.  Cut each into 5 or 6 slices and set them up on plates for dressing.  Take some orange juice – or make it fresh if you have oranges to spare – lemon juice, sugar and cinnamon, and mix it together in a small bowl.  Drizzle it over the orange slices and voila, you've got a delicious desert ready for Tupperware.  And at only 86 calories PLUS 150% of the daily value of Vitamin C, it's a great treat for all you moms trying to stay in shape too!
4 navel oranges
2 tablespoons orange juice
2 tablespoons lemon juice
1 tablespoon sugar
1/4 teaspoon ground cinnamon
Turkey Tortilla Ta-Da
Want a new twist on the traditional turkey sandwich?  Give these turkey tortilla pinwheels a whirl!  Spread some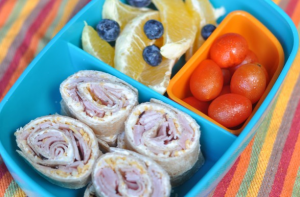 low fat cream cheese or mashed avocado on a tortilla and sprinkle with your favorite light shredded cheese.  Add a couple slices of turkey for your next layer, and tightly roll the tortilla.  After you have your log shaped sandwich cut it into small sushi sized bites!  If you're feeling creative your can always throw in any veggies you want into the original roll up as well!
1 whole wheat tortilla
low fat cream cheese or mashed avocado
light shredded cheese
lean sliced turkey
Food For Thought
Childhood obesity is at an all time high.  According to the Center for Disease Control, approximately 17% of children and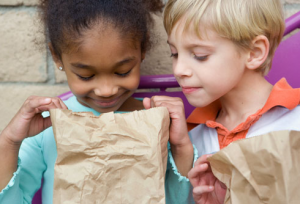 adolescents aged 2-19 years are obese, and 1/3 of American kids are overweight.  Don't let your kid tip the scale – instead fill them up with nutritious alternatives to fatty foods and sugary snacks.  It's the most effective way to teach them the importance of the best investment they'll ever make …a healthy future!
Check out Letsmove.gov for more first lady approved recipes created by American kids just like yours!
|
Print