by Brandi Savitt – revised September 9, 2013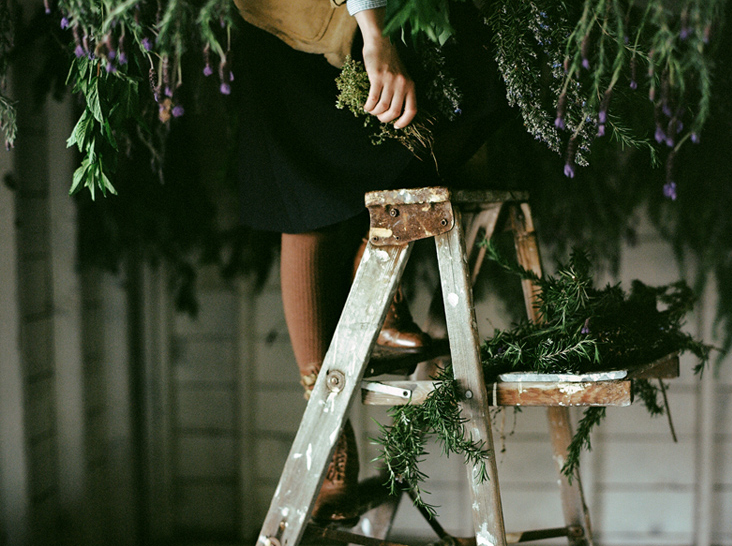 Drying Your Own Herbs
Calling all gardeners and farmers' market frequenters who can't get enough of  fresh herbs!  Harvest season is here.  But that doesn't mean you can't savor your favorite organic herbs and spices all winter long – without the price hefty tag!  Drying herbs is an easy and fun craft – and, yes, a great activity for kids.  Not only will you save money by stocking your spice cabinet with dried herbs from your own garden, get even more creative and give a trio of spices as a hostess gift or a stocking stuffer this holiday season!
The Easiest Herbs to Dry
According to Pickyourown.org, while you need a dehydrator to properly preserve tender plants like basil, mint and parsley, you can easily AIR dry heartier, lower moisture herbs, such as: sage, rosemary, thyme, oregano, summer savory, dill, bay leaves and marjoram.  So, not surprisingly, air dried herbs are our focus here…
What You Need to Air Dry Your Herbs

Fresh Cut Herbs
Thread, thin string or unwaxed dental floss
Brown Paper Bags
Spice Jars or airtight zip plastic bags
When to Harvest Your Herbs
Although not a MUST, the best time to cut herbs for drying is just before they flower. This is when the leaves have the most oil – and flavor.  Cut herbs when the leaves are dry – either late morning or early evening but not in the hot midday sun.
How to Cut 'em
Use a sharp knife or kitchen scissors to cut large stems and branches.  Gentle shake to remove any insects.  Then, remove any damaged or diseased leaves.
Rinse & Dry
Rinse each branch and dry them well – removing all visible moisture.  Damp herbs tend to mold, which could destroy your entire harvest.
Bundle & Tie
Remove the lower leaves on each branch and tie 4-5 stems together using thread or unwaxed dental floss.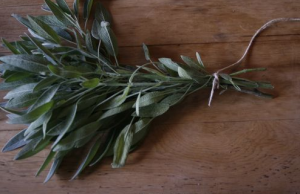 Paper Bag It!
Place the bunch upside down in a  brown paper bag.  Then gather the bag around the stems and tie it with string or floss. Cut several holes in the bag for ventilation.  Make sure that the bag is big enough so the leaves don't touch the sides of the bag. –Label and date each bag!
|
Print
Pages: 1 2