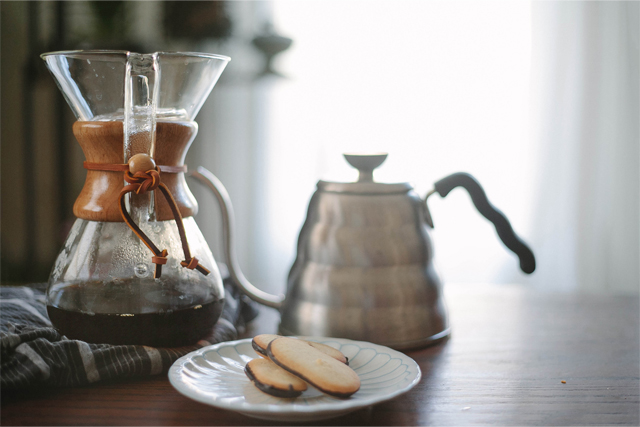 An Old Standby Is My New Fave
As I may have mentioned, I drink a lot of coffee.  And, until recently, my method of choice was the French Press – known for it's strong, filter-less brew…
The other night, that all changed when my cousin Corinne filled me in on a coffee tidbit that was news to me.  Apparently, some studies show drinking unfiltered coffee raises cholesterol levels!  The research I did suggested that most coffee drinkers don't have to worry about this – just those who drink 6 cups a day or more of unfiltered – like myself!
The good news?  Using a coffee filter removes most of the oils which appear to be responsible for boosting cholesterol.  Given the quantity of coffee I consume daily, it seemed like I should probably switch to a filtered coffee maker – and Corinne suggested I check out her Chemex.
The Chemex Filter Drip Coffee Maker
You have likely seen the Chemex carafe in one of two places: a museum (hello, MOMA) or a garage sale!  If it looks like a piece of scientific equipment – that's because it actually is.  It was developed in 1941 by a chemist on a quest for the perfect cup of coffee.
The simple "pour-over" filter system only requires a paper filter and a carafe.  Plus, of course, hot water and coffee.  But it is more labor intensive than an automated drip coffee maker.  With a Chemex you have to boil the water separately and take a few minutes to pour it over the grinds in the filter – rather than the ease of just pressing a button.  Given how hectic my mornings are, I decided to check out auto-drips first to see if there were any Fab & Fru options…
Auto Drip Duds
My research on regular auto drip coffee makers was pretty disheartening.  Even most of the expensive coffee makers got very low reviews!  Cook's Illustrated's top pick (The Technovorm Moccamaster) is a whopping $300.  And even their "Best Buy" recommendation is $150. I wasn't willing to spend that much – and was even less willing to start my day with a sub-par cup of coffee.  All of which led me back to Corinne's Chemex…
Great Taste, Price and Looks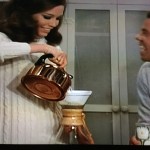 The Chemex price tag was a mere $40 for the 10 cup model.  The low price combined with stellar reviews had me very interested. Other benefits include: it's easy to clean, has no plastic and looks gorgeous on the counter!
So, this morning was my moment of truth. And yes – we have a winner!  In less than ten minutes I had a cup of smooth, filtered magic in hand.
And while it doesn't have a timer or any bells and whistles, I have to say I thoroughly enjoyed the ritual involved in brewing with the Chemex.  It only took ten minutes, but since it is a hands on process, I found it gave me a moment to pause and think in the midst of my otherwise insanely hectic morning.
Oh – and in case you were wondering – yes, The Chemex is the coffee maker of choice for both James Bond and Mary Tyler Moore – it doesn't get any more fabulous than those two, does it? For a frugal price and a fabulous product, the Chemex definitely receives our Fab & Fru seal of approval!
|
Print