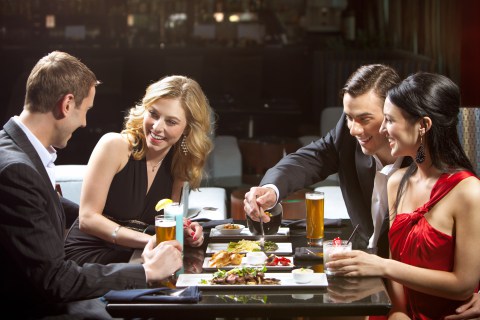 Sarah and her husband Kevin recently went out to dinner with Christy and Ben – and about halfway through their meal, the topic of money came up.  Both couples were commiserating about the high cost of living in New York, and all four agreed they were glad to have chosen a (relatively) moderately priced restaurant for their night out.
Sarah then shared that she recently found a fabulous consignment store – and had actually started selling some of her own clothing she no longer wore.  She had received almost $100 for 2 dresses she hadn't worn in years and felt like a total rock star!  Christy was impressed and even asked Sarah for the name of the store…
Sarah noticed that Kevin was pretty quiet on the way home.  Finally, she asked what was wrong.  He told her that it was really embarrassing to him that she told their friends about her selling her clothes for profit.  He said that despite the conversation about money, selling their clothes made them seem really desperate – and that he'd appreciate it if she left those type of personal details out next time!
Sarah was shocked.  All four of them had been discussing money, and it seemed like a completely appropriate comment for her to make.  In fact, she was really proud of herself for finding this gem of a store and saw no shame whatsoever in selling old clothes.
After 5 years of marriage, Sarah is just now realizing she and her husband have very different ideas of what constitutes "embarrassing" financial info! While she feels savvy, he feels cheap…
Is this a difference between the male and female ego? Did Sarah cross the line? Or is Kevin acting crazy? Would you feel comfortable talking about re-selling your clothes – or just keep it as a private money-saving secret?
Tell us what you think!
|
Print