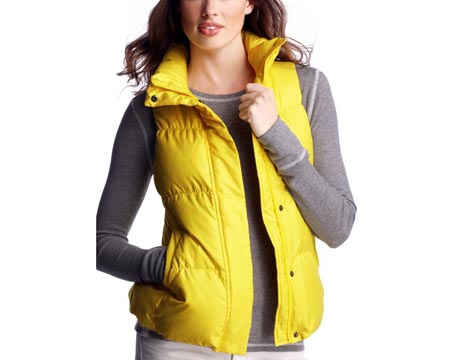 Moncler Meets Its Match
I've been looking for a few new pieces to add to my fall wardrobe – in particular, a new puffy vest.  I knew I wanted a classic vest but with a modern, streamlined fit.  I had seen a few people walking (ok, driving) around L.A. in an attractive one by "Moncler" – and since I was unfamiliar with the brand I looked it up…
Sticker Shock
So…the first Moncler puffer vest I looked at cost $775.  That is not a typo. I then found a more "reasonable" alternative (see photo at left)  — for $525.  While they seemed well made, and I loved the laquered-look of the fabric, I just could not figure out what made this brand so insanely expensive!
I searched online for the answer – and still came up empty.  Most of what I read was about how Moncler is a European luxury brand coveted by celebrities.  Which makes me think the high price tag is the price you pay to get the "Moncler" label emblazoned on the front of the vest.  I figured there must be some other flattering alternatives out there in a way lower price range…
Old Navy
Good news: it didn't take me long to find some very reasonable options!  Old Navy – IN STORE - has a great "Frost Free" vest priced at just $29.94!  Beware – the Frost Free vest they have online is $44.94 – and looks identical to me as the one I bought in the store.  Even the Old Navy rep could not tell me what the difference was, or why I could not find the cheaper version online.  So if you want the best price, go in the store.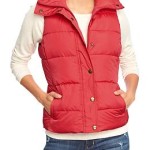 Their "Frost Free" vest (see pic at right) has a chic, slim fit, stand up collar, and though filled with polyester (not down), it is Polar Fleece lined and water resistant. And if you do want a down filled alternative…
Land's End
Thank goodness Land's End has finally started to add some modern edge to their designs! Their new "Women's Core Down Vest" (see pic at left) is sewn in a chevron stripe pattern for a clean, updated look.  And, like the Moncler, it is water resistant and down filled.  All for $49.00 – not $775.00!
So, we're curious – does anyone out there own a Moncler?  And if so, do you feel the quality and/or design justifies the price tag?  We want to hear from you!
|
Print