by Alexandra Pauline – updated October 21, 2013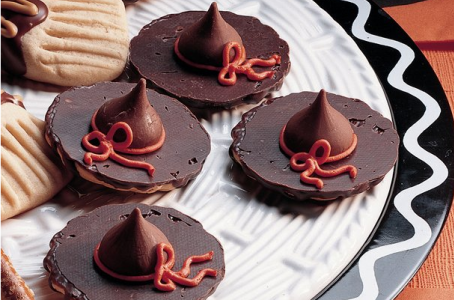 So Delicious it's Scary!
Planning a Halloween spooktacular for the kids?  Check out our favorite Fab & Fru holiday treats. There's no trick to these cheap and easy-to-make Halloween show stoppers – they're a guaranteed hit!
Mini Monster Cups
Not just for jumping out from under the bed anymore!  Add some flair that's sure to scare with these scrumptious mini monster cups.  Take a black marker and clear plastic tumbler, and draw one of these simple grouchy grimaces on your cup.  Mix a drop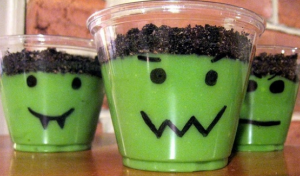 of green food coloring for each cup of vanilla pudding or yogurt.  Fill each decorated cup 3/4ths to the top with the mixture, and top off your ghoulish treat with some crumbled Oreo cookies.  In a matter of minutes you'll have a mini Frankenstein just in time for your guests to arrive!
Ingredients
1 black marker
1 package of vanilla pudding or yogurt
1 tube green food coloring
1 package of Oreo cookies
Wicked Witch Hats
Cast a spell on your guests with these deliciously cute and creepy witch hat cookies!  All you have to do is take a Fudge Shoppe Fudge Stripe cookie – fudge side up – top it with a Hershey's Kiss, and draw an orange icing bow around the Kiss.  Let them set in the fridge for five minutes to make sure they stick, and voila!
Ingredients
1 package of Keebler Fudge Shoppe Fudge Stripes Cookies
1 package of orange decorating icing
1 package of Hershey's Kisses
Lychee Eyeballs
With candy overload this time of year, a great way to sneak some fruit into your kid's haunted bash is with lychee eyeballs.  All you need is cranberry juice, a jar of lychee nuts, and a package of blueberries or cranberries.  Drain the lychees, and then place a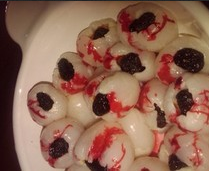 blueberry or cranberry into the hole of each lychee.  Serve on a platter, and use a tablespoon to drizzle a bit of cranberry juice over the eyeballs to top off your bloody scene! *For a more grown up affair, stick a couple on a martini skewer and use as a cocktail garnish!
Ingredients
1 15- to 20-ounce can peeled lychees (about 20)
20 large blueberries or cranberries
1 bottle of cranberry juice
|
Print
Pages: 1 2