Mix It Up This Season
To me, Fall is the holy grail of seasons – as far as style is concerned. There are more layers to be worn, which means more options, which means more fun!
But what's making this the most fab fall in years is that rules were made to be broken this season – so get ready to unleash your inner fashion rebel!
I've taken several of this season's emerging trends and laid out some real body, real budget friendly options to keep you looking your best all season long…
Winter White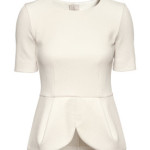 Much to our grandmothers' dismay, the "No White After Labor Day" rule is no longer in effect. Now if there were only some way we could guarantee our pumpkin spice coffee won't spill…
I love the look of this updated peplum from H&M. The price tag is super stylish too – only $34.95!
The split along the middle provides a perfect opportunity to show off a high-waisted pant. Pair this with a red lip and a pair of flats and BOOM – instant day to night look achieved.
Clashing Patterns
As mentioned, all bets are off this year in terms of matching! That means tons of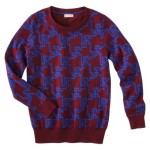 opportunities to use what you already have to create new looks, especially when paired with a few of my favorite Fab & Fru finds.
This $24.99 crewneck sweater from Target screams FUN. Everything from the color to the pattern is begging you to throw it on with a pair of plaid pants (hint, see below!) and paint the town patterned!

Plaid Perfection
Fall is taking a cue from Cher Horowitz this year. Plaid is just about everywhere, and with good reason. It's the perfect choice to pair with other patterns, can be dressed up or down and is synonymous with Fall comfort.
These pants from Ann Taylor Loft, at only $79.00, will have your friends wondering if you just blew your whole paycheck at Ralph Lauren.  I love how versatile they are: wear them with a button down and pumps for work or a patterned blouse and booties for drinks.  And the dark color and simple detail will serve you well for many seasons to come.
Remember: having the freedom to break rules this season gives you even more reason to go shopping in your own closet. We want to see what fashion forward combos you come up with, so please let us know -we want to be inspired by all of you Fab & Fru Fashionistas!
Jamie Feldman is the founder of The Real Girl Project. The Real Girl Project is a budget and body friendly fashion blog based out of New York City. The idea blossomed out of frustration for lack of realistic style advice presented by many popular fashion blogs. The Real Girl Project believes that every woman, no matter the size of their wallets or waistlines, deserves to feel as beautiful as they are every single day.

|
Print