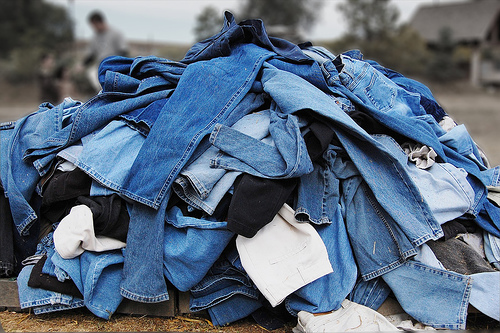 No More Scary "Boo" Jeans
It's Halloween – and in my opinion there's not much scarier than going shopping for jeans.  It can seem almost impossible to find a pair that flatters and fits.  Luckily, we found a new pair that makes us feel like a million bucks!  And though it may feel like they cost almost that much, we think this is one splurge that's worth it…
We all know that being Fab & Fru doesn't mean just buying the cheapest product out there, right?  If you can afford the upfront cost (without going into debt) it is often better to buy a higher quality item that will last longer and look better.
J Brand Does It Again
Case in point: J Brand Jeans. They have been at the top of our "worth the splurge" list for years now, and they have a new "Photo Ready" material out which I absolutely love.
I recently invested in a pair of "Photo Ready High Rise Maria" J Brands – and it was well worth the hefty $211 price tag. Their new "Photo Ready" material boasts a "slimming stretch technology" and it actually lives up to the claim. And though it comes in low, medium and high rise, I always go for the high-rise version – it sits right at my waist and holds everything in!
Quality Over Quantity
With a staple item like jeans, it's better to invest in one or two great pairs you love than spending the same amount on a bunch of crappy pairs you'll just have to replace.
For me, it's worth it – I wear jeans almost every day.  And I have not found any that last as long and keep their shape as well as my J Brands.  Cheaper brands I have tried stretch out and require constant washing to get their shape back – which of course adds to the deterioration of the jeans and their already cheap material. (For more on how to make your jeans last, be sure to check out our article!)
Flatters Your Flaws
I have polled friends with all sorts of (perceived) short comings – long torso, short legs, fat tummy, big butt, post-baby body – you name it – and they all keep coming back to the fit and quality of J Brand.
They are also one of the few premium brands to have a really extensive high rise selection.  If you have a long torso like I do, even "mid rise" basically ends up looking like super low rise. I love the coverage their high rise gives me – and the stretch basically works like a control top – without having to wear Spanx!
So – there you have it – J Brand jeans get the Fab & Fru seal of approval – totally worth the splurge!
We feel like we've tried on every jean on the market – but is it possible we missed one? We want to hear – what are your favorite jeans – and have you actually found an inexpensive pair that feels like premium quality? Let us know! 
|
Print