Give Your Home a Seasonal Spruce Up 

The holidays have arrived! And if you're anything like us, you want your home to look fresh and festive when friends and family come to visit throughout the season.  There's no need to rush into any pricey redecorating decisions when a few Fab & Fru tips can make your home warm, inviting, and totally gorgeous. Enjoy!
Throw Yourself into the Season

According to design expert Stephen Reynolds, one of the easiest ways to reboot a room is to swap out your everyday throw pillows and instead drape a cozy throw blanket or two on the back of an armchair or the couch. Comfy details make your guests feel welcome and relaxed – which of course makes for a fab party!  Stephen says plush chenille is a wonderfully cozy accent for this time of year.
Choose seasonal colors and patterns or opt for a winter white theme – let your imagination go. You don't have to commit to your holiday color scheme long term if you don't want to – so make it fun!  Check out these Black Friday deals to get extra savings on pillows, throws and other home decor!
Light Up Your Mantel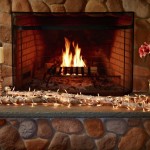 If you have a fireplace, let your mantel make a  statement!  We just love this Real Simple idea of wrapping a pine tree branch in Christmas lights. Your new light fixture will add character and ambiance to the room, making it an instant winter wonderland. Complement your design with some tall candles, winter greenery and/or winter berries.
-This is also perfect for those folks that are going out of town for holidays and don't want to invest in a tree or putting up a ton of decorations. –Now all you need is to build a fire and curl up in front of it!
It's Beginning to Smell like Christmas
Scent is a key part of decorating, and how your house smells plays a huge part in setting the mood.  Nothing invokes the magic of winter and the holidays more than the smell of cinnamon and cloves.  The best part – you don't even have to buy a scented candle for this decor tip!  Just boil a few cinnamon sticks and cloves on the stove and your guests will instantly feel the warmth of the season – no matter how cold it is outside…
Glam It Up with Flowers
Forget buying multiple poinsettias this year.  If you love having fresh flowers and plants in the house, we recommend splurging on a monochromatic winter floral centerpiece. This all red amaryllis and winter berry arrangement is stunning.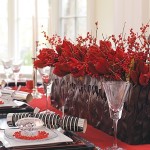 An all white arrangement with a hint of berries would be just as glam.
Stephen recommends  wintery arrangements that include pine and flowers like white ranunculus.  And if you want to add a glitzier touch for Christmas Eve dinner or the first night of Hanukkah, throw in a pinch of glitter or shiny pearls from your local craft store to make the arrangement pop.
If you're feeling extra crafty, recreate the same idea with dried or (high quality) fake flowers. You'll be able to use the arrangement for many holidays to come. Just visit your local craft or dollar store for supplies!  Now that's Fab & Fru…
Click here for more Fab & Fru holiday decorating tips!
|
Print