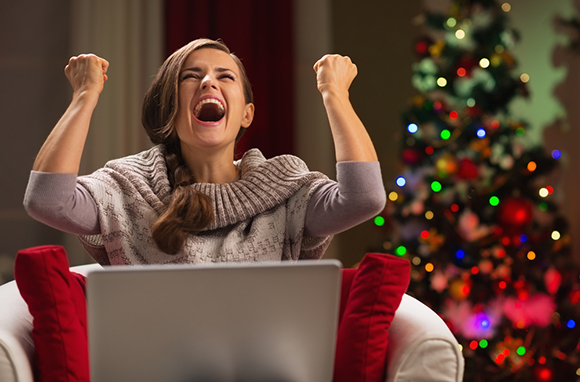 Save Cash & Your Sanity
With the holidays fast approaching, the window to find affordable flights for Thanksgiving and Christmas is closing fast. But don't freak out yet…  We have some Fab & Fru tips to help you save some cash and your sanity!
Book Your Flight Now!
Let's be honest, booking your tickets for Thanksgiving, Christmas and New Year's Eve in November is not the best way to get the cheapest fare. That's why making your plans NOW is key!
Prices have already started to skyrocket. But, according to the Huffington Post, "prices fluctuate through the week, and even throughout the day. History tells us that airfare generally drops early in the week. The key is to set a limit, stay vigilant, and if the price drops below that ceiling, jump on it".
Check out these sites to help you navigate the best last minute deals:
• AirfareWatchdog – emails airfare alerts based on your preferred route.
• Bing Travel's Price Predictor -  suggests whether to buy now or wait based on historical data.
The Road Less Traveled…
If you can swing it, you're likely to save $100-$200 bucks by traveling on the day of a holiday.  This may mean that you're on Thanksgiving cleanup duty rather then helping to cook- but the savings is worth it!
This goes for your return flight too.. Travel sites say that December 28th is the most popular day to travel after Christmas this year.  Avoid flying on the 28th, and you just may save a bundle.
Avoid Checking Your Luggage
December is a notorious time for airlines to lose checked luggage. No one can afford the hassle of lost bags, so if you plan on packing gifts, snow boots, or whatever may weigh you down, consider shipping them ahead via UPS, USPS or Fed Ex.  It may end up costing a little bit more than checked luggage fees, but you will  avoid having to carry tons of stuff, and it's guaranteed delivery!
Don't Wrap Your Presents
If you have presents in your carry on, don't wrap them ahead of time! Many times, wrapped gifts can cause huge delays in the security line.  Don't risk a TSA agent unwrapping all your hard work and wrapping paper dollars – just to confirm what's inside the package.  It's safer to wrap once you reach your destination!
Fly First Thing in the Morning
Whether you have a connecting flight to worry about, or you simply don't want to get stuck in the airport for hours, try to always fly on one of the first two flights out in the morning.  If there are delays waiting for planes to come in from somewhere else, or due to weather, as the day goes on, they will only get worse. The first flight of the day rarely gets cancelled!
Why Not Just Go to Europe…?
If you're open to skipping family time, the winter is actually off season for European travel.  Plus, no one celebrates Thanksgiving in Europe – so there's no holiday rush (or prices) to contend with that week!
However you plan to spend your holidays this year, if you're traveling by air, plan ahead as much as possible. You'll be happier and wealthier for it in the end!
What are your favorite holiday travel tips?
|
Print