by Stephanie Berenbaum – updated November 11, 2013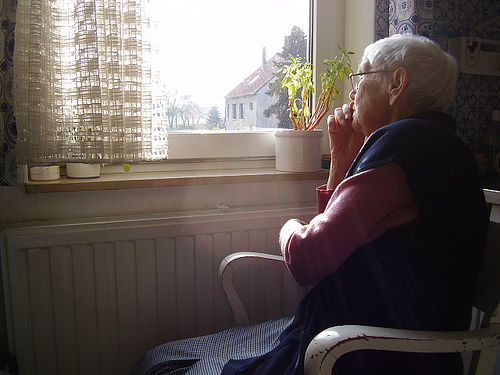 The Conversation You Don't Want to Have
If there's anything that might seem even more uncomfortable than having a money talk with your spouse, it's the thought of having one with your parents!  Which is why, unfortunately, so many of us avoid doing it. Thankfully, our friends at Women & Co have some tips for having the "Money Talk" with aging parents.  Women & Co. President and CEO, Linda Descano, offers the following tips on facilitating a financial conversation with Mom & Dad.
Ease Into It
The time to have the money talk with your parents is when they are healthy -  not at times of crisis.  But how to broach the subject?  Women & Co. suggests beginning the conversation with an indirect approach.  This could be you talking about your own situation, a mutual friend's situation, or even a recent headline you've seen – anything to help set the stage for a more comfortable and less emotional conversation.  The last thing you want to do is make your parents feel embarrassed or defensive, so the initial approach is key.
Know Where Important Documents Are
Once your parents have agreed to your help, Linda says the next step is to ask them where they keep their important documents – and whom you should contact in case they are in an accident or incapacitated.  This also provides an opening to discuss what provisions they've made, and what still needs to be done.  Ensure they have the 3 most important documents in place: a living will, a durable power of attorney and a health care proxy.
Get The Big Picture
Take a look at your parents' lifestyle today, and then gauge how prepared they are for the future.  This will likely not be an easy conversation to have, but you should try to determine: their current assets and income, their current debt and spending, percentage of assets that are liquid, and plans for covering medical and care giving costs.  If your parents are well prepared this still will likely be an uncomfortable discussion.  If they are not prepared, this is going to be painful but necessary.
Better Late Than Never
Chances are, your parents financial plan may not be perfect.  Along with a financial professional, you and your folks need to determine which areas of the plan are in need of a tune up.  For example, do they have a shortfall in their cash flow from retirement accounts, Social Security, pensions, investment properties and other investments? Your parents may feel overwhelmed and unprepared due to their age and employment situation, but it is always better to do something than nothing!
What You Can Do
You need to act as a search engine and find materials and resources to assist them in addressing any issues.  Something second nature to you – like direct deposit – may make a big difference for your parents.  For example, they may not have considered setting up direct deposit of any regular income like dividend checks, pension benefits and Social Security Checks.  This could help them avoid making mistakes while saving time and reducing stress.
Don't Assume
It's easy to make assumptions, especially about uncomfortable issues such as wills and estate planning.  Just because you see your parents are living a luxe lifestyle now –  don't assume this means you are set for life!
Remember – parents are people too, and they may have the same problems as you and your friends.  They might be unprepared and living above their means – whether you know it or not. Or,  you never know, they may be planning on leaving everything to charity.  Or they may be running through their money like water and assuming that you and your siblings will be caring for them.  Or, like so many of us -  they may just not have given financial planning a whole lot of thought.  Whatever the reality is – you need to know!
A Woman's Work Is Never Done
According to Women & Co., two-thirds of women now consider themselves to be the CFO of their household, and 86% of mothers say they are passing along their wisdom and teaching financial lessons to their children.  But it's not just the next generation who are benefiting from this wisdom – increasingly we are seeing the scope of women's financial influence broadening to their parents generation.  And as much as you might be dreading having the money talk with your aging parents, we hope these tips from Women & Co. will help you ease the way into the conversation and avoid a much bigger headache down the road!
|
Print