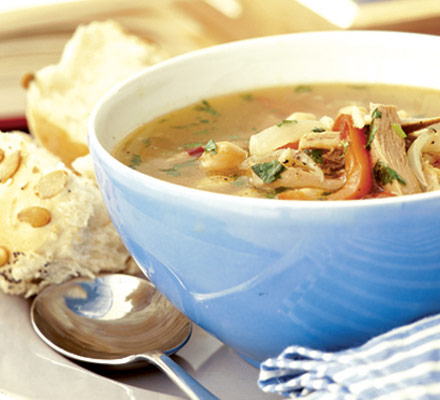 Transform Turkey Bones Into A Tasty Meal
My dad is a serious soup man.  From chicken soup to beef barley – you name it, if it has broth, he loves nothing more than filling up a serving size bowl of hot, homemade soup and slurping away!  Therefore, you can imagine the excitement that ensues a couple of days after Thanksgiving when the turkey has been picked down to the bare bones and all that's left to do with it is make TURKEY SOUP!
There's nothing more Fab & Fru than transforming leftovers into something new, healthy and freezable!  So, before you toss your turkey carcass out this year, throw it into a pot with some veggies instead and stretch your Thanksgiving budget way into December.  The best part – it's super easy!

Ingredients
Turkey Remains (the entire carved bird minus the meat)

2 quarts of Chicken Broth
3 Carrots
1 Onion
3 Celery Stalks
1 or 2 Bay Leaves
1 Tomato
1 Potato
1 Leek (optional)
2 Garlic cloves
2 or 3 cups of diced Leftover Turkey Meat
About 3 cups of Leftover Veggie Sides (example: green beans, brussel sprouts, squash, roasted potatoes, parsnips, turnips)
Fresh Parsley, for garnish (optional)
Salt & Pepper to taste

Place turkey carcass in two quarts of chicken broth with two halved carrots , 1 1/2 celery stalk, 1/2 onion, 2 crushed garlic cloves, 1 leak cut into four pieces,  1 bay leaf, halved tomato, halved potato.  Bring to a boil and simmer 1 1/2 hours.
Tip: Use the carrots and celery left over from the veggie crudité

Remove carcass and all large vegetables. Strain soup through a colander lined with a cheese cloth. Discard everything and return the strained broth to the pot. Chop remaining carrot and celery, dice 1/2 onion and add to broth. If you choose, you can also add another bay leaf to the broth. Simmer 20 minutes. Dice all leftover vegetables & turkey meat and add to pot. It is important to add all cooked veggies & meat at the end so they do not dissolve. Simmer another 15 minutes. Season with salt and pepper to taste and sprinkle with chopped fresh parsley.  Cover for a few minutes and serve with heated up leftover rolls.
Tip: This soup freezes extremely well. So, if you've had enough of turkey for the time being, stick it in the freezer and you could be enjoying turkey soup straight into 2014!
Enjoy!
|
Print