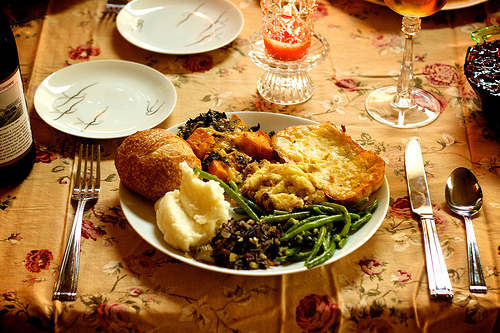 Our friends Amy and Alan are hosting 15 people for Thanksgiving this year – and preparation is in full swing!  Among the guests are Amy's friend Lisa and her new boyfriend, Dan.  Amy is thrilled that Lisa is dating Dan and is looking forward to spending the holiday with both of them!
All was going according to plan until this morning, when Lisa called Amy.  She told her that due to bad weather on the East Coast, Dan's brother and his wife and their two kids cancelled their plans to travel and would now be stuck here for Thanksgiving.  So…Lisa wanted to know if it was ok if they came to Amy and Alan's for Thanksgiving too?
Amy is totally fine with it – but her hubby Alan is throwing a fit!  He thinks that if Lisa's party of two has now turned into a party of 6, they should just host their own Thanksgiving.   Amy thinks Alan is totally missing the point and feels that being inclusive is exactly what Thanksgiving is all about!
So – what do you think?  Should they take a "more the merrier" approach and welcome Dan's brother and his family?  Or should they tactfully suggest that he and his family make their own arrangements?  What do you think?
|
Print