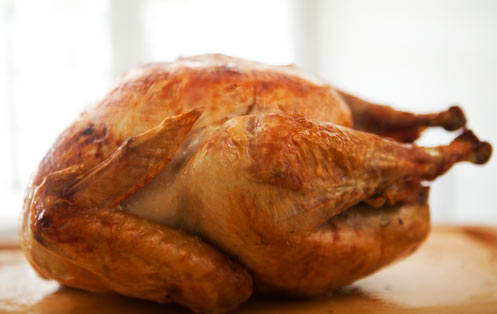 Whole Foods vs Trader Joe's
The time I spent on the phone today with Trader Joe's and Whole Foods left me thankful that I am going out for Thanksgiving this year.  What I thought was going to be a few simple phone calls to check prices turned into quite a bit of  frustration and misinformation!
The moral of this story… it pays to double (and triple) check your info when shopping for the best prices and quality for your Thanksgiving turkey.  After being left on hold for ten minutes (twice) and hung up on accidentally (once) by Whole Foods, I decided to simplify my questions and only ask about their KOSHER Thanksgiving turkeys.
The Whole Foods 411
After several phone calls and much confusion, I finally confirmed that kosher turkeys are selling for $3.99 per pound in Whole Foods' Los Angeles stores (their prices vary depending where you live).  Whole Foods kosher birds are antibiotic free and free-range, though the man I spoke with said he was not sure if they were vegetarian fed or not.  Out here in L.A. they are only selling frozen kosher birds (you can get fresh ones in other regions) and $3.99 per pound for a frozen bird didn't seem so great to me, so I checked with Trader Joe's …
Talking Turkey With Trader Joe's
Trader Joe's kosher birds are priced much lower, at $2.49 per pound.  They are also antibiotic free, and their L.A. kosher turkeys are indeed fresh and not frozen.  Plus, they are vegetarian-fed.  And although the woman I spoke with at TJ's corporate HQ initially told me they were free range, she later corrected herself and said they were not – though she assured me they do have access to open air and sun…
I then wanted to double check this claim and asked her who their supplier was.  This is when she informed me that she was unable to disclose that information… I never realized how much faith we as consumers must have when it comes to trusting where our food comes from. Is the lower price worth the lack of information?
For The Birds
This whole exercise proved to me just how hard it is to get correct information about the food we eat from stores we shop at everyday.  Given that I am calling two weeks before Thanksgiving, I figured this info would be right at their finger tips – especially in the case of Whole Foods which has a dedicated "holiday table".
But, back to the birds.  If I had to choose one kosher turkey over the other, I would go for Trader Joe's because it's significantly cheaper and it's fresh.  And, look on the bright side – its mysterious origin may just add some intrigue to your Thanksgiving table!
We're curious – has anyone else out there had trouble getting Thanksgiving answers out of your grocer?  What kind of bird are you buying this year – and where are you buying it?

|
Print