The Reality of New Year's Resolutions
Are you among the millions of Americans whose New Year resolution is to workout more?  Before you plunk down money to join a gym, consider this: most people who join a gym in January stop going within a month or so!
If you're a "January Joiner", you are not a alone.  60% of gym memberships go unused – that's  a whole lot of money and good intentions down the drain!  Gym regulars have long complained about how crowded the "Resolutionaries" make the gym.  But gyms count heavily on this influx to bulk up their bottom line!  Here's how you can avoid falling into the trap…
Try Before You Buy
Before you spend the money to join a gym – try as many as you can for free. Most gyms offer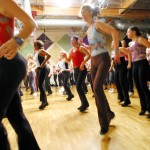 free trial days and classes for prospective members. Plus, if you have a friend who belongs to a gym they can usually take you in for a free trial too.  This helps you not only to find which gym might be right for you, but also what type of workouts you like to do.  You might realize that classes really aren't your thing – and that you would be just as happy joining a no frills gym and pocketing the extra cash!
Exercise Your Negotiating Skills
They are not going to advertise this, but most gyms will negotiate with you to get your business.  Our friends have had success getting the "initiation fee" reduced or waived all together! The other thing to negotiate?  Getting stuck in a long term contract.  This is what gyms are counting on – that you will sign up for a long term and not go.  We actually think it's wiser to offer to pay a bit more but go month to month -that way if you drop out (like most January Joiners do) you won't be stuck paying all year!
No Frills?
Another consideration – let's face it – is social.  If you're looking for a glamorous scene on top of a workout, a higher end gym might make sense for you.  But if you really just want to workout and that's it, local options like YMCAs should not be overlooked.
Here in L.A., the Hollywood YMCA – which might sound rather unappealing – has become known for its awesome classes and child care! So before you sign on the dotted line, take into consideration what kind of social outlet you're looking for – don't pay for an exclusive club when you're not looking for one…
Good Luck
Well, we hope that didn't discourage you too much.  We still think joining a gym is a fabulous New Year's resolution – we just think you should resolve NOT to join until February!
We'd love to hear from you – what have your best negotiating tactics with gym been?  Any advice for your fellow Resolutionaries?
|
Print