J. Hilburn Men's Clothing
Looking for the perfect holiday gift for the man in your life?  We've got a totally Fab & Fru idea for you.  J. Hilburn is making custom men's clothes affordable.  Yes, we're talking made-to-measure shirts and suits using only the finest fabrics – but for a frugal price.  That's why J. Hilburn gift cards are one of our top holiday gift picks this year!
Big Savings On Saville Row Quality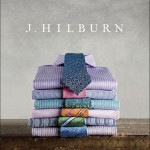 Here's the deal – bespoke clothes are usually insanely expensive. But J. Hilburn sells directly to the consumer and passes the savings on to you.  It's easy as can be – you get measured by a stylist, pick out the fabrics and details you want and voila – custom clothing gets sent right to you.  I know my husband would love to bypass the hassle of going suit shopping in a department store…
The Price Of Perfection
Custom shirts start at just $99, and there are tons of fabrics to choose from.  We also love that J. Hilburn offers a 100% money back guarantee on their clothing.  If you don't like it, they will re-fit you or refund your money.
For more information on setting up a stylist appointment or to order a gift card, please contact J. Hilburn stylist Lisa Ullmann at lisa.ullmann@jhilburnpartner.com. She is based in the LA area but can refer those in other parts of the country to a stylist in their area.  Plus, every new customer gets a $20 discount on their first clothing order of $100 or more. A great deal, and holiday problem solved!
|
Print