Easy & Awesome Holiday Hostess Gifts
Are you in need of some Fab & Fru hostess gift ideas, grab bag presents or gifts for the teachers and neighbors?  Check out our favorite DYI gifts in a jar.  They're easy to make, they look amazing, and they're awesome to receive.  And the best part… you can make multiple, affordable gourmet gifts in no time at all!
Double Chocolate Hot Cocoa
*Thanks Weelicious for this super cute & delicious idea!
Ingredients/Supplies per jar:
1/2 cup

unsweetened cocoa powder

1/4 cup

white sugar

1/2 cup

chocolate chips

1 cinnamon

stick

one 16 ounce

mason jar with lid
In a small mason jar (we love the mason jar mug idea in the photo above), layer the cocoa powder, sugar, chocolate chips, and top with the cinnamon stick. 
Create a gift tag to attach to the jar with these preparation directions:
Place the contents of the jar in a medium saucepan with 6 cups of milk. Simmer until the chocolate is melted and the hot cocoa is warm and smooth.
Tie a festive ribbon around each jar, or decorate your cocoa jars with your own holiday flare!
Rosemary Lavender Bath Salts
Ingredients/Supplies: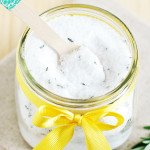 -Epsom salts (reduces inflammation & soothes tired muscles)
-Coarse Sea Salt
-Baking soda (alleviates skin irritations & softens the water)
-Lavender Essential Oil
-Rosemary Sprigs
-Small to medium mason jars
-Decorations of choice
In a large bowl start by mixing 1 cup Epsom, 1 cup sea salt and a 1/2 cup of baking soda.  *You can double or triple this recipe depending on the size jars you are using and how many you want to make.  Then add 10-15 drops of lavender oil, and test the strength of the scent. If it is not strong enough for you, add a few more drops.  Remove the needles of, or chop 1 large rosemary sprig and stir the ingredients together.  If you prefer the way it looks, you can also add the intact rosemary sprigs directly into the jar when you pour in the salts.
Decorating your jars is key, and where your holiday style comes in.  Get creative labeling and naming your salts.  Using fabric squares under the lid, ribbons or extra rosemary sprigs to spruce up your presentation!
|
Print
Pages: 1 2