by Brandi Savitt – December 19, 2013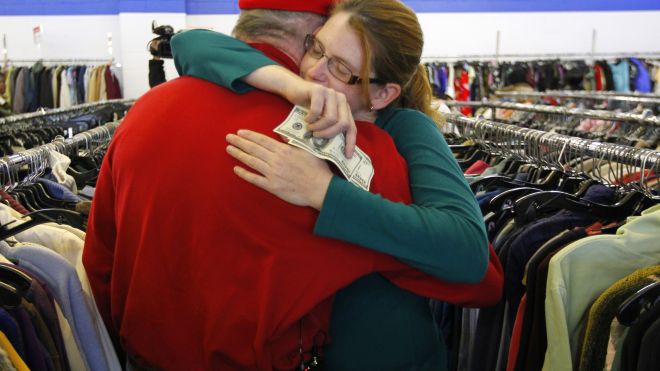 Random Acts of Holiday Kindness
Many of you have heard about the financial planner in The Villages, Florida – while waiting for his wife to finish shopping at Walmart, he paid off over $20,000 of layaway accounts! Moved by the holiday spirit, and his childhood memories of his single mother struggling to pay off their Christmas layaways, Greg Parady made a spur of the moment decision to pay it forward by donating $21,000 to cover half of the 75+ layaway accounts at the store that were over $200. Instead of writing a check to a charity this holiday season, Parady decided to take action right then and there.  And his actions inspired similar acts of kindness at Walmarts in both Granbury, Texas and Bellefontaine, Ohio.
And then there is Missouri's Secret Santa who deals only in crisp $100 bills. His identity has been protected by the press for years, but every holiday season this generous soul hands out 100 dollar bills to people on the street and in stores in order to make a difference in their lives.  He spends approximately $100,000 a year spreading hope in his surrounding community. And it works…
I encourage you to click on the links above and read these stories or watch the videos.  They're heartwarming, tear-jerking, real life events that are truly inspiring.  But, keep in mind – you don't have to spend hundreds or thousands to make a difference in someone's life today, and acts of kindness should not be exclusive to this time of year.  However, getting in the holiday spirit is certainly the right mindset to start off the new year!
Just this morning, my neighbor and I rode the subway together on our way to work.  There was a homeless women trying to get someone to swipe her through the turn style so she could get on a warm train.  Without hesitation, my neighbor swiped his card through for her. It cost him $2.50, but it changed her entire day – and mine.
Imagine if all of us who read this article go a little out of our way today to help someone else in need.  Whether it's buying someone a cup of hot coffee for a dollar, or helping them across an icy street, today is your day to make a small difference in someone else's life.  Not only will it help them, it will likely make you feel pretty good too.  And we're quite confident what comes around goes around.  So, get in the holiday spirit and do something today that will make someone else smile!
Happy Holidays!
|
Print