by Stephanie Berenbaum – updated December 13, 2013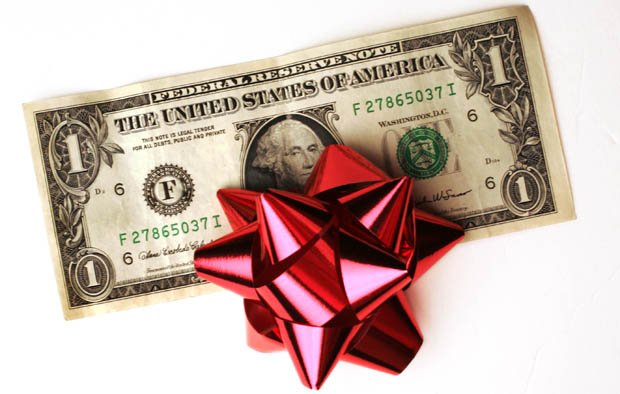 A Fab & Fru Guide to Saying Thanks
Giving holiday tips to service providers may be synonymous with Santa, but knowing what and how much to give remains a source of confusion for most of us.  Not to worry –  we have some pretty strong Fab & Fru opinions on the topic!
Ready, Set, Tip!
We canvassed friends and family in major cities across the country to see what the standard tipping range is for the most common services.
*REMEMBER, whenever you give a tip or a gift, accompany it with a card.  Cards give you a chance to express your appreciation while reminding the person who the gift is from!
The Nanny
2 weeks pay is a customary holiday bonus – and yes, that is in addition to time off (even if you decide to take a last minute holiday family vacation)!  The fact that your nanny continues to receive her salary while you are on vacation is not a substitute for a cash bonus.  Neither is the fact that you may have generously given them hand me down designer bags, etc. during the year. That sort of generosity is of course fabulous, but not a substitute for a proper cash bonus. This person is in charge of taking care of the most important people in your life – your kids! Showing how much you appreciate them is essential.
The Babysitters
For a babysitter you use on a regular basis, one night's pay seems standard among people we polled – of course this amount will vary greatly on where you live and how much you pay an hour!
Teachers & Day Care Providers
Emily Post says that giving teachers a non- cash gifts from both you and your child is the way to go – but we disagree.  With the paltry amount teachers & day care providers get paid, most teachers I asked said they WAY prefer a cash (or cash equivalent) gift.  Gift cards are a fantastic way to show your appreciation.  Accompany your gift with a homemade treat from your kids, and you will have made one teacher very happy!
The amount you give will of course depend on what you can afford.  Many people we polled suggested a gift in the range of $50-$100 for the head teacher, and a smaller gift for any assistant teachers.  Even if your price range is $5-$10, go for the practical gift – a Starbucks gift card or something that will actually save them out of pocket cash will always be appreciated!

The School Security Guard
I know… It's such a sign of the times that most schools have armed security guards.  Not only are they keeping our schools safe, but many of them are the welcomers that help start out kids days off wit a smile.  Depending how many guards you have to tip, $20-$30 – cash or gift card – is the going rate!
The Mail Carrier
$20 is the average tip among friends polled.  However, according to United States Postal Service regulations, mail carriers are not supposed to except cash gifts…
But let's be real – we don't know anyone who lives in a big city who has given anything other than cash.  So, unless your city mail carrier tells you themselves that they can not accept your cash gesture – $20 is the way to go!
The Gardener
Give 1 month's pay to the head gardener-if you are sure he will divide among his staff – otherwise split the one month fee up yourself among the whole team.
The Garbage Collector
$20-25 is an appropriate tip for the guys in charge or getting rid of your stinking trash!
The Doormen
There's endless controversy & confusion over what to tip the doorman…  If you live in a big building where you have multiple people to tip, $50 per doorman is the New York average.  However, if you live in smaller building and your doorman always greets you with a smile and a helping hand, $100 is the standard bonus.
The Superintendent
The above doorman strategy also applies here.  Depending on how many people you have to tip, and the services they provide you personally- $50-$100 is the going rate!
Your Cleaning Person
2 weeks salary – cash.  If your cleaning person is anything like mine, he/she is one of the hardest working people I know!
Your Hair Stylist & Manicurist
Emily Post says that if you go to the salon on a regular basis, tipping the cost of a full session for the holidays is customary. However, if you live in a city and are paying hundreds of dollars for a cut and color, and you tip well throughout the year, giving your stylist a $300 tip is NOT necessary.  Adding an additional 10-20% to your typical 20% is more than plenty!
No matter what your budget, a heartfelt THANK YOU is always appreciated.  Let those around you know how much you appreciate them – and if you can afford it, be sure to put your money where your mouth is! Customs vary widely depending where you live and who you talk to.  We'd love to hear from you.  Tell us what you think!
|
Print