Getting Pretty – Straight From Your Pantry
I always use baking soda for household cleaning, but recently started using it for personal care!  I came across some totally Fab & Fru "personal hygiene" suggestions on the Arm & Hammer website, and decided to try them out one by one.  The ones I have tried so far definitely get our Fab & Fru Seal Of Approval for being effective, inexpensive and eco-friendly!
Facial Scrub
I was sick of spending a ton of money on "natural" facial scrubs.  The main ingredient always seemed to be water, anyway!  So I tried the recommended formula of 3 parts baking soda to 1 part water and it worked like a charm.  My skin looked clean and refreshed – and best of all it only cost a few cents.  Will definitely do this again.  As with any scrub, make sure you use gentle, circular motions so as not to irritate your skin.
Brush Cleaner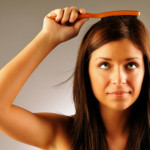 I admit it – in the several years since I bought my most recent hairbrush – I had properly cleaned it approximately zero times.  So I gathered up my hairbrushes and combs and soaked them in a solution of 1 teaspoon baking soda in a sink of warm water.  After rinsing and letting them dry, they felt good as new!
Next up, I took my kids' cruddy toothbrushes, and soaked them in containers with a small spoonful of baking soda mixed with warm water. (Remember to use different containers for different people's toothbrushes!) Then just rinse them well with warm water and let them dry – and say bye-bye to gross build-up!
I was particularly happy about extending the life of the toothbrushes because I always feel terrible throwing away yet another plastic toothbrush.  I hear baking soda and water is also an excellent toothpaste substitute – I haven't tried that yet, but it certainly did the trick as a toothbrush refresher!
Shampoo Booster
There are special shampoos that you are supposed to buy to "rid your hair of shampoo residue" but this always seemed like a waste of money to me.  So I tried adding a little bit (quarter size)  of baking soda to my regular shampoo and it really helped remove product buildup from my hair.  Again – it only cost a few pennies and eliminated the need for me to buy a new product.  Plus, of course, it is a natural alternative to the chemicals that are in so many hair products these days.
These are just the tips I've tried so far – can't wait to try the rest.  We want to know – what are your top baking soda beauty secrets?
|
Print