Serve Eight For Under $20 a Pot
I'm on a mission this year to stock my freezer every Sunday with affordable, homemade, go-to-meals that my family can enjoy throughout the week.  And while cooking all day every Sunday is probably an overly ambitious plan, starting off with a simple one pot wonder -like soup- is the easy jump start I needed to get my plan rolling…
This Week's Success!
It's Monday…and I did it!  My refrigerator and freezer are both full of fresh, Homemade Chicken Soup (check out the recipe)!
Now, I know to some of you this might not seem like such a big deal.  But, as many of you know, it is near impossible to find something that every member of your family (dogs included) likes to eat.  And for us, chicken soup fits the bill!
I have to admit, most canned Chicken Soup grosses me out.   There is nothing appetizing about some bits of hormone laden chicken suspended in a broth largely flavored with MSG.  I mean, Chicken Soup is supposed to be healthy, right?  And buying it pre-made at a deli just seems like a huge waste of money.  Plus, being a bit of a control freak, I like being able to ensure the amount of salt and quality of ingredients whenever possible.  So, finally, it occurred to me that somehow in all my years of cooking everything from unpronounceable French dishes, to Indian curries and homemade challah, I had never made chicken soup!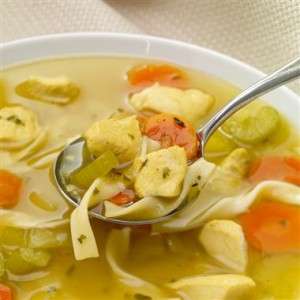 Luckily for me, when Brandi was last in town, she set me straight about just how easy – and cheap – it is to make homemade, organic soup.  Together, we traversed a local farmer's market and bought an organic chicken, some carrots, celery, onions and garlic.  Armed with just a few simple ingredients – and very little prep time – Brandi boiled up enough delish soup to feed 6- 8 people – for under $2 per person!  Plus, I have several servings left over to freeze and meals for the next few days!
Build on the Basics!
Brandi also came armed with some simple suggestions for gussying up her basic chicken broth – I love the idea of taking a simple, crowd pleasing recipe and adding a twist for a little variety.  Experiment with these fool proof ideas that will add an extra zing to your favorite go to winter meal!
Lentils for Texture & Iron!
Add lentils 45 minutes to an hour before the soup is done simmering for an extra protein punch!
Kale for Fiber, Vitamins & Color!
Add loads of dark leafy greens like Kale the last 5-10 minutes of cooking. – I personally love when soups have so many veggies that it's like a soup & salad combo all in one!
|
Print
Pages: 1 2