You Won't Believe It's Ikea!
One of my New Year's resolutions is to finally get a new cabinet for our living room – I'm tired of my old Ikea contraption.   I was prepared to invest in a good piece, and came across a cabinet online that looked fabulous – and it turned out it was an Ikea hack!
So, what exactly is an "Ikea Hacker"?  It turns out there is a whole sub-culture of people who "hack" (make changes to) Ikea funiture – generally to make it more upscale and/or unique.  Check out the Ikeahackers site for some totally fab & fru inspiration!
Cheap & Chic
The piece I came across was featured on Style At Home and was made from the Ikea "Besta" line.  And it was interior designer Peter Fallico who totally took it to the next level – in his very own house!
And while he added a marble (!) top to his, what really caught my attention were the affordable Chinese brass handles he put on his cabinet (see main photo).  In a million years I would have never guessed it was Ikea!  Even if you don't splurge on the marble, the handles are a must – most are in the range of $10-50 and there's a huge variety to choose from.
Ikea Family Discount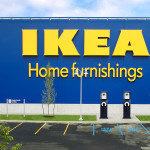 Even better? I realized that the "Besta" line is one of the featured "Ikea Family" discounts this month.  If you're not an "Ikea Family" member yet it's definitely worth checking out.  Here's the deal – it's free to sign up, and you have access to special discount pricing each month as well as many other money saving perks!
Thank you to Peter Fallico for this totally Fab & Fru design inspiration.  We're pretty sure that for just a few hundred we'll end up with a piece that looks like it easily could have cost a few thousand!
|
Print