by Brandi Savitt – revised January 16, 2014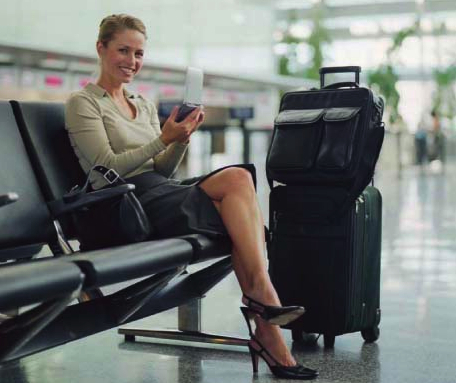 How to Take Advantage of Travel Perks
Traveling for business can be as exhausting as it is exciting.  If your job has you on the go, make sure you're taking advantage of all the money saving perks business travel offers!
Negotiate With Your Company for Points
If you are on the road a lot for work, negotiate with your company to ensure that you get all of the airline, hotel and even company credit card points that accumulate as a result of your travel.  This is not an automatic perk at every company, but it is a definite incentive to fight for – especially since salaries are not what they used to be!
Use One Credit Card
Make sure that you use a credit card that offers travel awards points.  And if you're traveling abroad, check to see if your card charges international fees. Other perks to check for are medical coverage and theft coverage while traveling overseas. Also, be sure that for every dollar spent on your card, you receive a point that you can apply to future trips on your preferred airline and travel networks. Free vacations await if you have everything connected properly!
Travel on the Same Airline
The same concept from above applies here too.  By making an effort to fly the same airline, or airlines owned by the same network, you will tally up your frequent flyer miles faster, and become eligible as an elite customer to receive more benefits as the number of miles you fly adds up.  Depending on your level of status, perks can include:
Automatic Upgrades to First Class Plus Companion Upgrades

Priority Baggage Handling
Priority Boarding
Complimentary or Reduced Baggage Fees
Priority Wait Listing
Lounge Access
Become a Preferred Guest at a Hotel Chain
To earn the most points and get the most perks, try to always stay at your favorite hotel chain or within a hotel network.  Preferred guest programs typically include such perks as:
Free Nights
No Blackout Dates for Standard Rooms
Free Upgrades
Keep Track of Your Points
After each trip, check your account to make sure that you actually received your reward points for both your travel and accommodations.  You'd be surprised how often people don't get credited!
Also, be sure to keep track of your various points and expiration dates, so you can plan ahead and book discounted trips before it's too late.
Leverage the Weekends for Personal Travel
If you travel often during the week for work, you likely prefer to get home to spend the weekend with family and friends.  However, if you're planning a vacation or a quick weekend trip, coordinate it around your work travel.  Save money by leveraging your return ticket to fly to a different city for a weekend to visit, or coordinate things so when you end your business trip you can start your vacation.  This way you can reduce your out-of-pocket expenses by only having to pay for one leg of your trip!
Save on Food & Entertainment
When you're traveling for business most meals are paid for, and most social activities can be expensed.  Even if you are not taking clients out at night, many companies allow traveling employees to expense their dinners during business trips, and some firms include reimbursement for the night that the employee is returning home from their client sites.
Our friend Marquis Parker used to hit the grocery store on his way home from the airport to pick up groceries that he would eat that night for dinner and then use all weekend long. When you're gone for most of the week, you don't end up keeping food in your house, so these en-route-to-home grocery trips ended up saving him a good amount of money each week!
Invest Your Savings
Most people who travel typically save a significant amount of money on food, drinks and entertainment when they're on the road.  The next time you travel, calculate what you saved being away from your daily routine, and use it to invest in your future.  Use your extra cash to pay off your debt, start a personal vacation fund, or even use it to put roots down by saving to buy a home.  Whatever you decide, turn your jet-setting life into a money saving opportunity!
|
Print