by Stephanie Berenbaum – updated January 24, 2014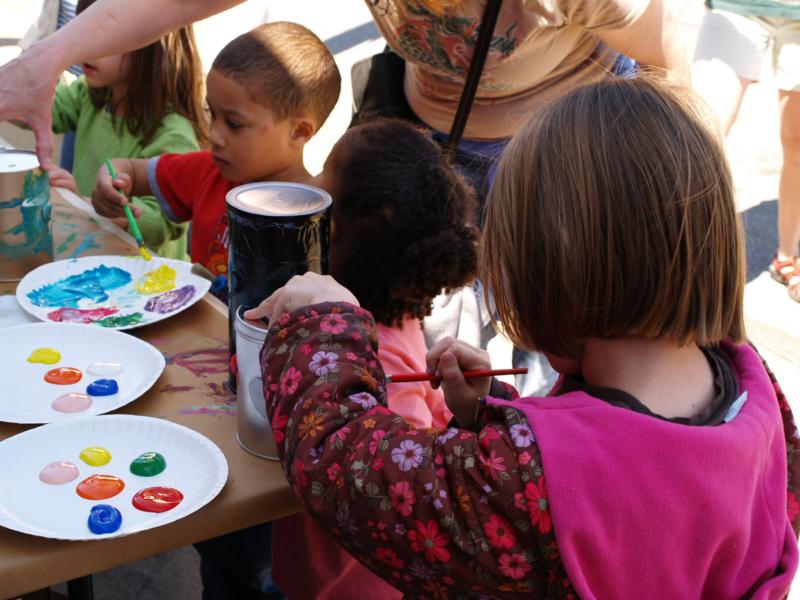 How to Turn Trash Into Treasure
Last week, I took my sons to a crafting event at L.A.'s Craft & Folk Art Museum.  The theme was turning trash into treasures, and we brought in items like used plastic bottles and cardboard containers and the museum helped us turn them into wonderful puppets!
This is an activity that is so easy to do at home, it got me wondering why we don't do it more often.  And it inspired me to revisit some our favorite Fab & Fru tips on this very subject – here's to making greatness out of garbage!
Bottle Cap Beauty
My kids' school recently told us to bring in all our bottle caps for an art project.  Apparently here in LA, bottle caps are not recycled – who knew?  So everyone brought in old bottle caps and they are using them to make a fabulous mosaic-type art project!  Not only can we easily do this at home,  but researching what is and is not recycled in your district is a valuable lesson for the whole family.  I had been putting all my bottle caps in the recycling bin until I got the email from school!
It's A Wrap!
Lindsey Harper wrote to us with a D.I.Y. project that is as creative as it is useful!  She saves all of her kids finger painting (which, she mentions, you can do either in recycled butcher block paper or old paper bags) and then re-uses it for wrapping paper!  Not only does it make for a fabulous and personalized presentation, it prevents all the waste of buying new wrapping paper. Thanks, Lindsey!

Recycled Robots
Nancy Schimmel gave us a Fab idea – which I can't wait to try since both my boys love robots. She uses plastic cups, bottles, forks and – this is my favorite – pieces of broken toys - to make recycled robots!
I always feel so guilty throwing away all our battered and broken toys, and this has given me the perfect way to reuse all the random trashed parts I find everywhere!  Once built, you can leave the robot in it's natural state to easily identify all the fun, random junk that makes it so unique, or you can glam up your robot with a little spray paint!  Nancy likes to spray paint her robots silver for a high tech polish… so you can't even see the plastic.  Thank you Nancy!
Losing Your Marbles?
I am always at my wit's end trying to come up with creative new games to hold my kids' attention.  And of course you are always running a risk spending money on a new toy that your kids may lose interest in by tomorrow…
The other day we were at a friend's house and my 5 year old was obsessed with his friend's 'Marble Run' game, which basically consists of running marbles through tubes of thick plastic. Well, Lyss Stern from Divalyssious Moms has a great money saving solution for us!  She suggests making an at home version of the marble game – using cardboard tubes from paper towels and toilet paper roles as the tubes!  I love this idea – it is a great way to save money and not buy another plastic monster game to take up space.  Thank you Lyss!
Garbage Art
These were just a few of our favorite Fab & Fru ideas – please write in and share with us your favorite recycled art projects!  We suggest keeping a trash bucket labeled- Recycled Art Projects- you will not believe how quickly your treasure trove of wrappers, broken toys parts and cardboard tubes will add up.
Trash art is an excellent way to teach your children (and yourself) about recycling as well showing your kids the carbon footprint of waste produced in your household each week.  Not only are these projects fun and educational for the whole family, they might just actually save you money!
|
Print