by Stephanie Berenbaum – January 31, 2014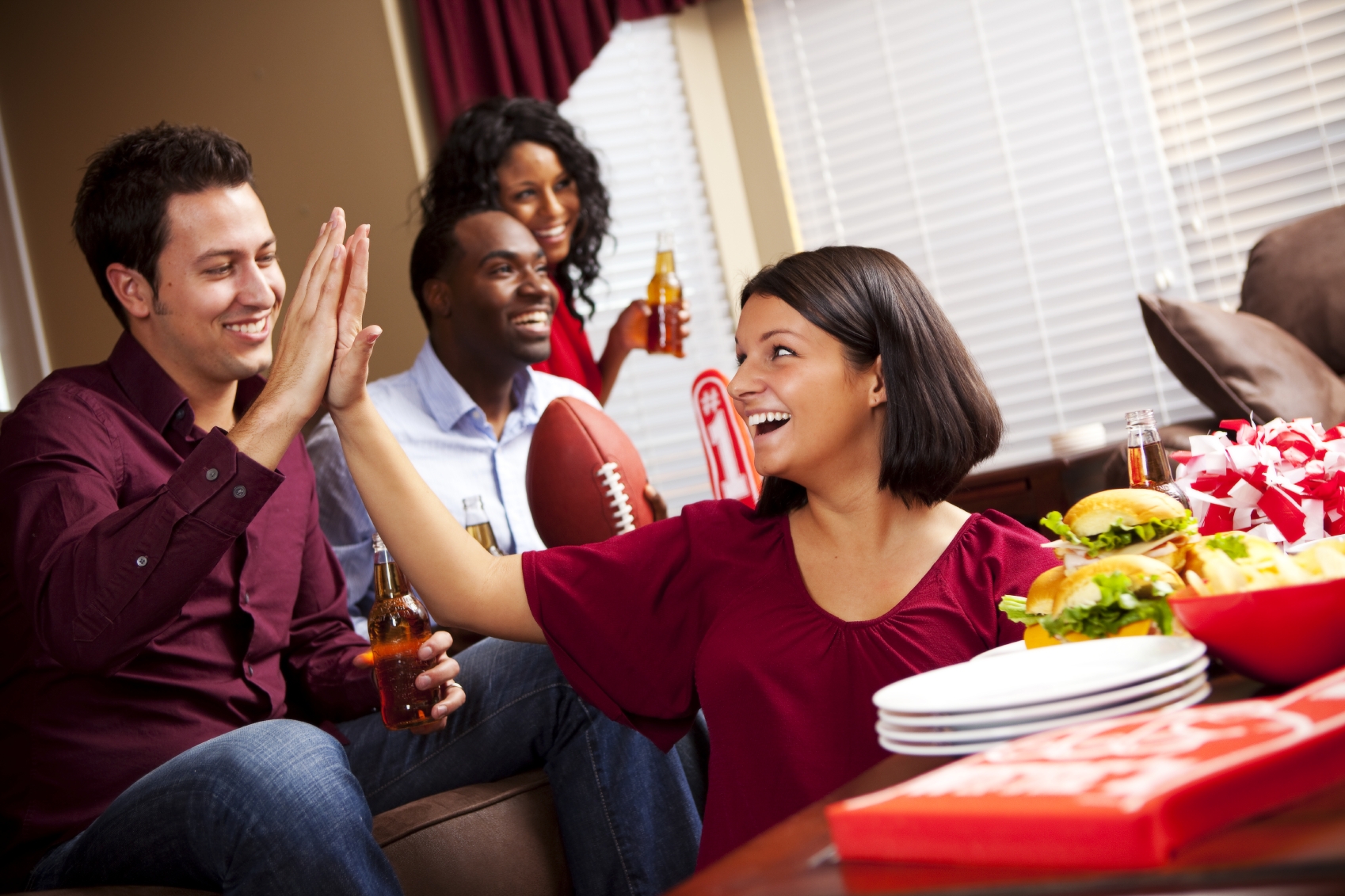 Score Some Easy Entertaining Ideas
Whether you're a football fan or not, everyone loves the comfort food that Super Bowl Sunday has to offer.  And I have to admit, one of my favorite foods in general is DIP.  This Sunday, you can easily turn chips and dip into a Broncos vs. Seahawks themed snack – on the cheap!
Color Coded Cuisine
So much of Fab & Fru entertaining just comes down to festive labeling. Let's start with the team colors: the Broncos are orange with blue and white and the Seahawks are blue with green and white.  Now all it takes is a little creativity to turn basic chips and dip into a fab, color-coded offering!
Just set out a bowl of Doritos with a smattering of blue corn chips mixed in, and served with your favorite white (sour cream based) dip and mark it "For Broncos Fans".  Then, set out some green salsa verde (in a clear bowl so people can see the color) and serve with blue corn chips "For Seahawks Fans".  Voila – you've got a theme going just from pouring chips in bowls!
If you want to spend a bit more to incorporate some veggies, of course you can add in orange peppers and carrots on the Broncos side and cucumbers and celery on the Seahawks side.
Chutney and Cream Cheese Dip
Now it's time to wow your crowd with some new twists on dip – recipes courtesy of my mom! Mango chutney (which, by the way, should be a staple in your pantry) and cream cheese combine to make one of my favorite dips of all time.
For more of a spread for crackers, just blend softened regular cream cheese and the chutney together with a wooden spoon.  Or mix the chutney together with whipped cream cheese for more of a dip. Mango lends an unexpected elegance and is a sweet change from your average dip!  And of course it goes on the "Broncos" side because it is orange…
Salsa & Sour Cream
Looking for an easy upgrade to your jar of salsa?  Just mix in with sour cream and you have a decadent, delish dip that is unusual to boot. It's a great way to stretch your salsa and also to cut a salsa that might be too spicy.  This welcome change also really looks beautiful once mixed.  And if you want to incorporate this into the above themes, just make sure you use a green salsa in your mix to represent the Seahawks!
A Tasty Touchdown
We'd love to hear what Super Bowl dips you are whipping up. And remember, with a little creativity you can put a Fab & Fru twist on any celebration – without getting a penalty for spending!
|
Print