by Brandi Savitt – updated January 27, 2014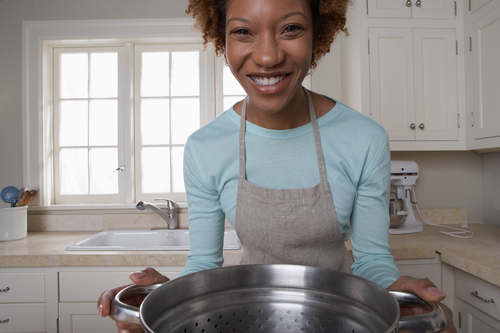 Save Time & Money Eating Healthier
In recent years, the 70′s Crock Pot has been making a come back.  The good news? It's not just for beef stew anymore!  From, soups & sauces to hearty meat dishes, pastas, and veggie/vegan delights, the modern slow cooker even does desserts.
Some more complicated dishes may take a little extra prep time, but once you put the ingredients in the pot, you can leave, go to work and come home to a healthy, hot meal.  So, dust off that slow cooker you got as a wedding gift, or invest in a simple, modern version (we like Cuisinart's model for around $50). This Fab & Fru appliance may just help you keep your New Year resolutions to eat healthier, cook more, save money and lose weight!
Check out these Fab & Fru slow cooker tips to get the most taste & bang for your buck!
Buy Cheaper Cuts of Meat
While we always advocate buying free-range organic meat when possible, you don't need to splurge on the most expensive cuts to get a tasty and succulent outcome.  Because the slow cooker cooks at a low temperature for longer, it allows meats to literally stew in their own juices, making them much more tender and flavorful in the end!
Take Time to Prep
While most of us may want to just throw a bunch of uncut veggies and a chicken into the slow cooker and expect a meal 8 hours later – it's not quite that simple.  To save time, cut veggies, soak beans, marinate meats or combine spices the night before.  This way, you can throw all the ingredients into the pot first thing in the morning, turn it on low and go.
But keep in mind, when you're first starting out, look for recipes online or pick up a slow cooker recipe book.  For maximum flavor, many recipes recommend searing meats first or softening the veggies.  Follow a recipe until you get to know your pot and your slow cooking style!
Don't Cut Your Root Veggies too Big
Because of the slow cooking process, it's important to cut your potatoes, turnips, beets, carrots small, etc small enough so they're done in the expected time!
Don't Use too Much Liquid
You need less liquid than you think with a slow cooker.  As veggies and meats cook slowly, they release a lot of their own juices – adding too much liquid will alter the proper consistency and flavor of most dishes.  –Another reason to follow recipes closely before declaring yourself a pro!
Don't Overfill Your Slow Cooker
Most manufacturers recommend filling the ceramic pot of your slow cooker no more than two-thirds full (this differs among brands, so check your owner's manual).  This is key to cooking your dish properly and avoiding overcooking or undercooking any meats, beans or veggies.
Avoid Lifting the Lid while Cooking
Resist the urge to take off the lid and peek at your masterpiece. Opening the slow cooker lets heat escape and slows the cooking process. Wait to open the lid 30 to 45 minutes before the end of the cooking range to check doneness.
Moroccan Chicken & Quinoa
Check out this scrumptious Fab & Fru slow cooker recipe.  It's to die for!
Tell us your favorite slow cooker recipe!
|
Print