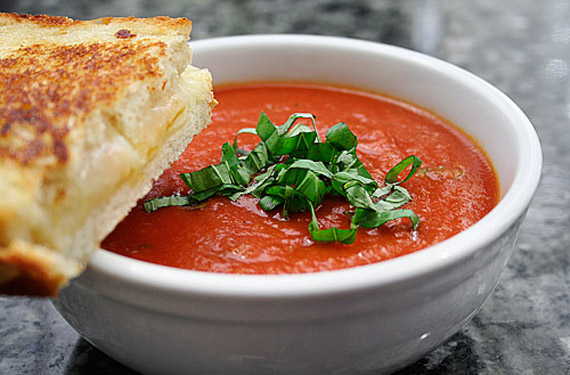 Love tomato soup?  We do! This dairy free, fast, easy and inexpensive recipe will put a smile on everyone's face.  It's delicious served hot or chilled in the summer.  We make a vegan version, but if you prefer to use chicken broth – that works too!
Ingredients:
2 tbsp of extra virgin olive oil
1 small-medium onion, chopped
2 cloves of garlic, minced
tsp of hot red pepper flakes (or to taste)
1 bay leaf
1 can (28-ounce) whole tomatoes
1 tbsp sugar or 1/2 tbsp of agave
2-3 slices sandwich bread, crusts removed and cut into 1-inch pieces (the center of crusty Italian or French bread works too.  You can then brush the remaining crust with olive oil,  sprinkle with garlic powder and a pinch of salt.  Cut it in pieces, toast in the oven, and you have garlic croutons for a garnish!).
1 cup low-sodium veggie or chicken broth (In a pinch, I've used water and it works just as well).
1/2 cup of fresh chopped basil
Kosher salt and ground black pepper (to taste)
Instructions:
Heat the olive oil in a heavy-bottom pan over medium-high heat.  Stir in the onion and cook 3 minutes. Add the garlic, red pepper flakes, and the bay leaf. Cook until the onions are translucent, 3 to 5 more minutes.  Add in the entire can of whole tomatoes. Use a potato masher or fork to mash the tomatoes and release the rest of the juices. Stir in the sugar or agave and the bread pieces. Bring to a boil.  Reduce the heat to medium and add the broth or water and cook 3-5 minutes. Remove and discard the bay leaf.
Transfer the soup to a blender and add 1/4 cup of basil .  Blend until the soup is creamy in texture (30 second to 2 minutes depending on your blender). Salt and pepper to taste and garnish with the remaining basil (and garlic croutons). Serve immediately or let it blend in the fridge.  We love it hot or chilled.  Enjoy!
|
Print