by Stephanie Berenbaum – updated February 20, 2014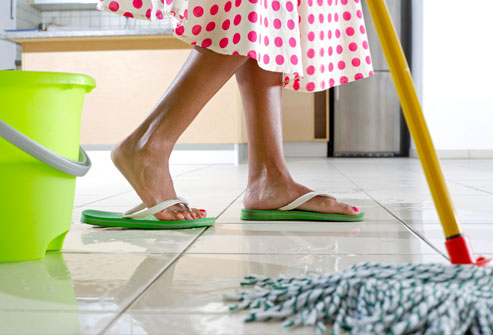 Dr. Bronner's Does It Again
If there's one thing I'm picky about, it's floor cleaner.  With 2 young boys, an ill-trained dog, and a generally messy household, I often find myself scrubbing floors multiple times a day…
I was on the hunt to find a floor cleaner that was inexpensive, natural and super effective.  Our totally Fab & Fru solution? Dr. Bronner's Sal Suds! We've written about our love for Dr Bronner's body soaps before, but be sure to check out Sal Suds – their household cleaner.  It's easy to miss because the packaging is almost identical to their body products, and it is often displayed right along with them…
Eco-Friendly and Economical
One of the many things Fab & Fru loves about Sal Suds: a little goes a LOOOONG way.  They are not kidding when they say that the product produces "copious suds" – just one squirt in a bucket of water will clean my whole kitchen!  You can buy a 16oz bottle for around $8 and it lasts seemingly forever.
Like all Dr. Bronner's products, it is natural and non-toxic - and it works like a dream.  It cuts through grime and grease just as well as any chemical cleaner I have used.  And it has a fabulous, mild scent – from real fir and spruce – not artificial pine. It is just enough to soothe but not overwhelm, unlike many other household cleaners on the market.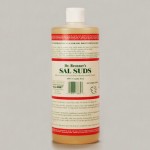 All in One Cleaner
The other thing that makes it totally Fab & Fru is that Sal Suds is actually a multipurpose household cleaner.  Beyond general hard surface cleaning, it's so versatile you can even use it for dishes, laundry and much more.
For a great break-down of the zillions of uses this product has, check out Lisa Bronner's blog – Going Green With A Bronner Mom.  She is the granddaughter of the original "Dr. Bronner" and has a handy cheat sheet on her site listing various dilution amounts as well as uses for Sal Suds and other Dr. Bronner's products.
So – instead of buying multiple products, streamline your purchases with this one.  Besides saving you money it will also put and end to a lot of cleaning product clutter under your sink.
Fab & Fru Approved
Now you know we also love vinegar and water as a naturally Fab & Fru cleaner, but sometimes you just need suds to cut through the big messes.  Dr. Bronner's Sal Suds has definitely earned our Fab & Fru seal of approval!

|
Print