Fact Check Before It's Too Late
If you are already in tax prep mode, we congratulate you on not waiting until the last minute!  But be sure you answer one very important question: Is Your Tax Preparer Legal?  Unfortunately, not all tax preparers are legit.  Which means, yes, you have one more thing to add to your to-do list. So, how do you tell if the preparer down the street is for real – or a fraud?
Investigative Tips From The IRS
The good news?  The IRS website has a whole list of handy tips for vetting your tax preparer, including:
- Check the person's qualifications & history: See what professional organizations your preparer belongs to and make sure they are in good standing – also remember to check with the Better Business Bureau.  If your preparer is a lawyer, for example, make sure they are in good standing with the state bar association…
- PTIN, Please: Paid preparers must sign the returns and include their PTIN (Preparer Tax Identification Number) so make sure yours does both!
- Fishy Service Fees: Avoid preparers who calculate their fee based on a percentage of your refund!
- Signing Off: Never sign a blank return!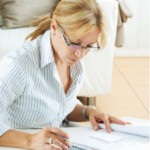 Be sure to check out the IRS website for more info regarding preparer red flags as well as info on how and when to make a complaint.
The Buck Stops With YOU
Did you know: taxpayers are legally responsible for what's on their tax return – even if it is prepared by someone else.  That's right – so even if your tax preparer is illegal and fraudulent – you will end up cleaning up his or her mess.  That's why it pays – literally – to make sure your preparer is legal!
|
Print