By Brandi Savitt – February 3, 2014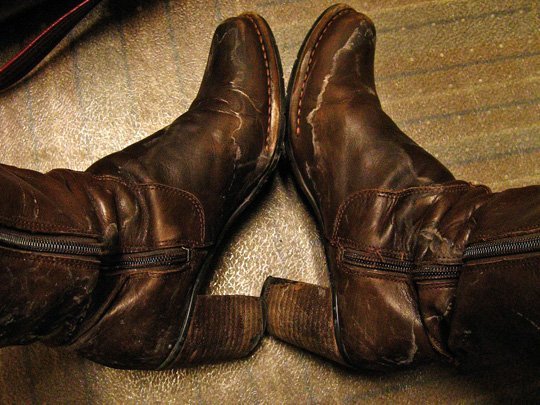 Is Winter Ruining Your Leather?
It's only the beginning of February, which means many of us have a ways to go before this mighty winter eases up.  With all of the snow, salt and slush on the streets out there, it's time to put a little TLC into caring for your shoes and boots.  Here's some Fab & Fru tips to help preserve your leather this season.  Remember, a little maintenance will go a long way!
Treat Your Boots & Shoes
The salt used to melt ice on sidewalks, parking lots and roads is made of sodium chloride and calcium chloride, and it can leave a white, drying stain on your shoes.  In order to help protect them from weather conditions, treat your leather footwear with a water-repellent coating (lotion or spray) – like GHRI-tested Protect-all from Kiwi ($5.00).  It works well on both suede and leather. Make sure your shoes are completely dry before applying, and always test a small part of the shoe to be certain it won't ruin the leather.  Re-treat your shoes throughout the season, after every cleaning.
Keep 'em Polished
In addition to looking good, keeping your boots and shoes polished will help to create a protective barrier between the damaging salt and your leather !
Be Sure to Wipe off Residue
Don't let the slush and slop sit on your shoes. When you get home or to the office, take the time to wipe off the moisture and soot from your shoes using a soft cloth or paper towel.
Remove Salt Lines & Stains
Get rid of those pesky white lines and rings from salt by mixing 1 tablespoon of white vinegar with 1 cup of water.  Dip a clean soft rag into the mixture, wring out the excess moisture, and gently blot the salt stains off your shoes.  Apply sparingly, and once clean, allow the shoes to dry.
Erase Scuff Marks
Don't try and forcefully scrub away those ugly black marks on your leather. Instead, dip a soft cloth in water, then some baking soda, and rub the spots gently. Once the scuff marks are gone, wipe your footwear with a clean, damp cloth and buff dry. -(For rubber boots and wooden heels repeat this process but use a more abrasive kitchen cleanser like Comet instead)!
Step into a Puddle?
If you stepped in snow or a puddle and your leather is soaked through, stuff your wet shoes with newspaper and dry them slowly away from direct heat.  Direct heat can dry the leather too fast, causing them to crack, dull and lose their shape.  Before your shoes are entirely dry, insert shoe trees to make sure they dry out evenly and maintain their shape.
Moisturize…
Leather is like skin, so if you don't want your shoes to dull and crack – keep them moisturized with a good leather conditioner/polish!
Share with us your favorite shoe saving tips!
|
Print