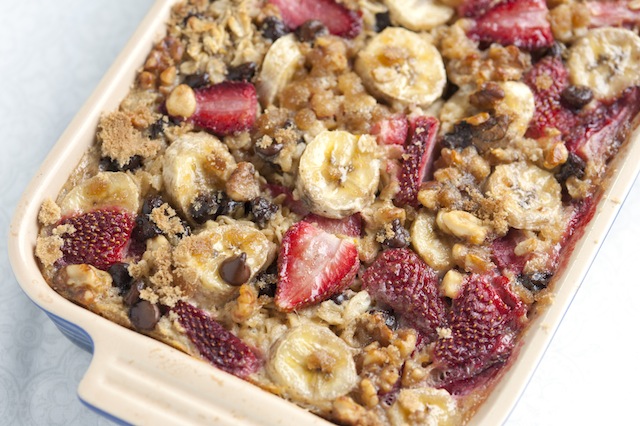 Serves 6
*Inspired by B. Lewis
Need: 1 – 8 x 8 greased pan – (can use butter, coconut oil, or non-stick cooking spray).
Preheat oven to 375 F
Ingredients
2 cups of old fashioned oats
1/3 cup of sugar (we like to substitute palm sugar)
1 tsp baking powder
1-2 tsp of cinnamon (to taste)
1/2 tsp of salt
2 cups of milk (almond milk works perfectly too if you're dairy free)
1 large egg (can be made without – just add a 1/4 cup more milk of choice. The dish will be more porridge like in consistency)
3 Tbs of melted butter (or substitute coconut oil – in liquid state-  for a vegan option)
1/2 cup chopped walnuts (optional)
1 cup sliced strawberries
1 large ripe banana (sliced)
1/2 cup semi-sweet or dark chocolate chips or chunks
Directions
In a bowl, mix together the oats, sugar, baking powder, cinnamon, salt, strawberries, half the chocolate chips and half the walnuts. Transfer the mixture into the greased pan.  Whisk together the milk, egg, butter and vanilla – (this step is the same for the vegan option as well). Pour the liquid over the oats and make sure that it's evenly distributed in the pan. Arrange the banana slices and the remaining chocolate chips and nuts on top.  Bake for 35-40 minutes.  -If you want to add a little caramel sweetness to the top, sprinkle sugar on the oatmeal at the 25 minute point and bake another 10-15 minutes.
*This recipe can easily be made dairy free and vegan (see above recommended substitutions).  Also, feel free to swap out the fruit for other berries, apples or whatever you like.  Like your morning oatmeal, this is a very adaptable recipe – experiment and customize to taste! -This dish is perfect for Sunday brunch and large gatherings.

Enjoy!
|
Print