Wedding Bells Without Huge Bills
Nothing makes a wedding more special than adding your personal touch.  Though wedding magazines may make you feel every detail has to be professionally executed, it's the homespun additions that are most memorable – not to mention the most cost effective.  By adding even a few Do-It-Yourself details, you can save a ton of dough!
Centerpieces
I used to work for a high-end floral designer.  I know how amazing flowers can be – and how outrageously expensive!  For my own wedding, my sister and I put together green fruit baskets as centerpieces to complement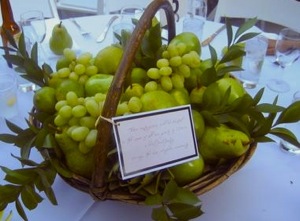 my verdant outdoor setting, our sage green invitations and party favors.  At the end of the night, we donated the centerpieces in honor of our guests to a local food pantry.  The centerpieces cost under ten dollars per table – versus what could easily have been hundreds per table.  They were simple, beautiful and went to an excellent cause!
Do Yourself a Favor
Instead of wasting hundreds of dollars on party favors your guests may not even notice, let them take home a little something to remember YOU by.
Maybe you're a known for your baking skills, or your hubby-to-be makes a mean Manhattan.  Give your guests that secret recipe for your pineapple upside-down cake, signature cocktail, or your family's famous marinara recipe. Fabulous LA-based event planner Mikki Kane remembers one of her favorite brides gave out tins of her famous praline cookies along with the recipe as a gift to her guests – sweet!
Table Your Spending
Before you spend a zillion dollars on high end linens and crystal, we have an idea to jazz up your tabletop that is absolutely FREE! When I got married, it was important to me to tell each guest how much it meant to me that they were there, but I worried I wouldn't get a chance to speak to everyone individually.  The solution turned out to be both meaningful AND money-saving…
On each place card I wrote one sentence personalized to that guest to make them feel special and appreciated – it was a welcome surprise for the guests as they sat down to find their messages written just for them!  No one cared about the basic white linens or lack of fancy silverware – the thoughtful, personalized words were the talk of the table instead!
We'd love to hear some of your D.I.Y. wedding success stories – and of course, failures too – if you're brave enough to share them.  Here's to a spring of love …and savings! 
*Revised March 17, 2014
|
Print