by Brandi Savitt – revised March 3, 2014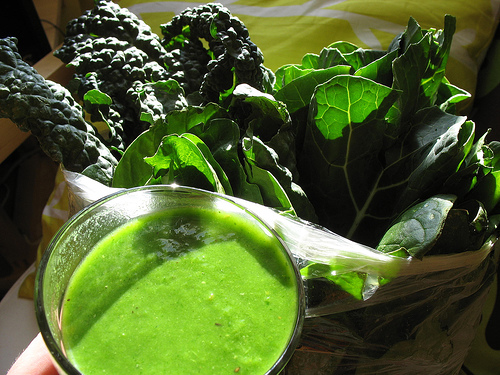 The Best Green Smoothie Recipes Ever
Salad in a Glass
Looking for a tasty way to add more fresh fruits and veggies into your diet (& your kids'too) without having to gnaw your way through a head of kale a day?  Well, you don't have to be a health nut and a green juice junkie to embrace, and actually ENJOY, a super good for you green smoothie.  Packed with vitamins and fiber straight from the garden, smoothies are an all natural way to boost your immune system, make your skin glow, and shed some extra pounds without even trying!
The Vitamix – Is it Worth the Investment?
The key to making yummy veggie packed smoothies that tastes more like a shake, not like your drinking a glass of grass sludge, is the blender that you use.  If you've never heard of the Vitamix, let me introduce you to an appliance that will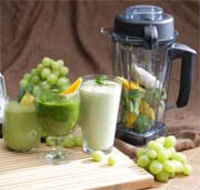 change your life (and your health) for the BETTER!
While this super powerful blender, and smoothie making godsend, is NOT cheap, if you frequent Jamba Juice or the juice bar at the health food store at least a couple of times a week, or if consider yourself a budding gourmet, purchasing a Vitamix will be well worth the $300+ price tag.  In 20 seconds, the Vitamix will pulverize and liquify even the most fibrous whole greens and fruit.  It's also terrific for soups, sauces, puddings, and anything that you want as creamy as can be.  Plus, it's super easy to clean.
While there are new products on the market meant to rival the Vitamix, this super powered blender is a sure thing. In my opinion, if you enjoy cooking, and/or if you plan to commit to making smoothies, the Vitamix is a Fab & Fru culinary splurge that is TOTALLY worth the investment!
The Key to a Good Smoothie
Besides a the serious health benefits of consuming more veggies, making smoothies at home is also a fantastic way to use up fruits and vegetables before they go bad.  The key is to experiment with the right combos of greens and fruit.  For maximum health benefits, try to always use fresh, organic fruits and veggies in your smoothies.
Adding the right amount of liquid is also key to proper blending.  Purified water, coconut water, organic almond or  hemp milk, and fresh pressed apple juice are all excellent and healthy ingredients to make your smoothie as delish and smooth as possible.
Check out our top 3 favorite recipes! 
–All recipes make 1-2 servings.  They're also all a really pretty green color..

|
Print
Pages: 1 2