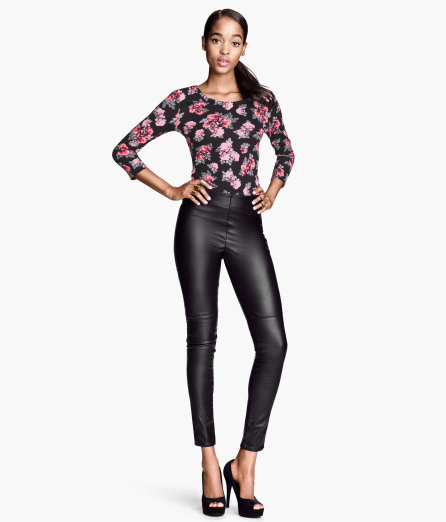 The Look For Less
I've always loved the finale from Grease – especially Olivia Newton-John rocking those skintight, black leather pants!  And, lately, I've been on the hunt for my own pair of leather – or leather-ish – pants – and found that it's not so easy to find a pair that look good on me.
So, I went on a mission – and tried on many, MANY pairs of leather and faux leather pants.  And to my dismay the ones that looked the best on me cost $1100 – very fabulous, but not so frugal.  I was about ready to call off my search when a sleepless night led me to H&M online…
H&M To The Rescue
I had been in my local H&M store and they had a very meager selection of (p)leather – but online was a different story! When the box finally arrived, I slithered into one pair and it was like Cinderella's slipper – that is if her slipper were a pair of faux leather pants that only cost $24.95!
Now, to be fair, the $1100 real leather pants felt more supple and did look slightly better – but were they worth $1,075 more?  Probably not.  Plus, unlike real leather, the H&M pants claim to be machine washable, thus doing away with hefty dry cleaning bills.  Granted, I'm guessing these won't last forever – but for $25 I really don't care!
There are several different variations on the H&M website, but the winners I found are the Ladies' Imitation Leather Pants.  They are unadorned and cleanly designed with a natural, elastic waist.  I've found if you are trying to pass off frugal for fabulous it is best to go for simple designs – because cheap details tend to look like – well – cheap details.  Oh, and unlike the model in the above picture, I am 41, 5'3″ and have had two kids – and these pants still work on me – thank you H&M!
|
Print