Infuse Your Gathering With Flavor And Fun
I admit it, I am partial to booze.  Which is why every time I have a dinner party, I put all my focus on the alcohol and new drink combinations – and rarely give water a second thought…
But the other night I actually went out and spent money on "lime flavored" sparkling water – and it was GROSS.  As my guests politely sipped the vaguely lime-ish tasting H20, I promised myself I would do better next time.
So, it got me thinking – what's more Fab & Fru than water?  And why hadn't I ever realized what an entertaining powerhouse good old water could be?
It's A Drink And Decor
Making your own infused water is not only healthy, low cost, and delicious, but it is so beautiful it also serves as decor!  No need to spend money on flowers when you've got all these brightly colored fruits and veggies working double duty.  So, at your next gathering, be sure to set up a "water bar" for your guests.  Drinkers and teetotalers alike will love it and kids can enjoy it, too.
Delish DIY
All you need is several large clear pitchers – they must be clear so you can see what's inside.  If you have ones of differing sizes and shapes it makes it more interesting but don't stress if you don't. (Tip: this is the moment to pull out all your wedding crystal you never use!)
I recommend doing at least three pitchers  – one fruity, one vegetable-y and one that incorporates mint or some other herb.  Prevention Magazine has some great recipes on its site, and you can easily improvise on your own. Just make sure you let the infused fruits and veggies sit for a couple hours, chilled, to release the flavors.  Sometimes unusual combos are the most popular – think pineapple/sage or strawberry/basil!
You can also use (unflavored!) sparkling water, just add in more of the bubbly water before serving to reinvigorate it.  Or, if you are offering plain sparkling water, I like to put out little "infuser skewers" along side of it.  It's just toothpicks stacked with the various infusions so people can easily pick one up and stick it in their drink.  This also gives the alcohol drinkers a fun option if they want something different than olives or a maraschino cherry.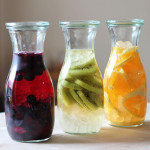 Major Points For Presentation
As with most things Fab & Fru, it all comes down to presentation.  Just make some festive signs for your pitchers and garnish with some of the leftover fruits and veggies.  On any given day, you probably have ingredients sitting in your fridge to make several combinations of infused water without having to even go to the grocery store.  You'll be amazed at how easy and inexpensive this is – and how delighted your guests will be for such a festive alternative to basic water.
What's your favorite water infusion?  Tell us what tricks you have to liven up your water!
|
Print