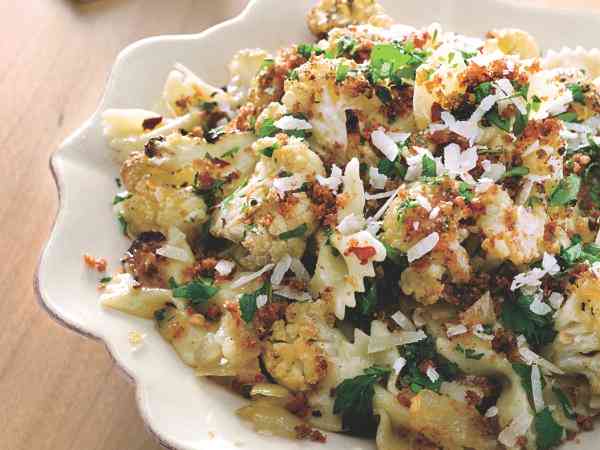 Easy, Veggie and Delish
It's almost Passover, which for me means giving up leavened products for a week – and yes, that includes most noodles.  So this week, I decided to enjoy some of my favorite pasta dishes – they are Fab & Fru, and easy to make too!
Roasted Cauliflower & Farfalle 

Inspired by Mark Bittman – Serves 4 as a meal up to 8 as a side

Ingredients:
1 head of cauliflower
4-5 large garlic cloves
1 medium onion
red pepper flakes
1/2 of pine nuts
1/2 cup of fresh parsley
olive oil
8-12 oz of bow ties or your favorite pasta
Parmesan – optional
Set your oven to 400.  In a casserole dish, toss cauliflower florets with 2-3 tablespoons of olive oil, a dash of sea salt, 4-5 quartered garlic cloves, and roast for about 20-30 minutes – until the florets are tender and starting to brown.  Add a 1/4 cup of water to the base of the casserole dish and stir.  Stir again every ten minutes.
Boil water for the pasta.  Once the pasta is cooked set aside about 1-2 cups of the water to help create the sauce.
Chop one onion and sautee until translucent. When the onions are half way cooked, add pine nuts and allow them to slightly toast.  When the cauliflower is done, turn off the heat on the stove and add the cauliflower to the onion mixture.  Smash the roasted garlic cloves and a few of the cauliflower florets.  Add salt and red pepper flakes to taste.  Toss in pasta and slowly add enough pasta water to create the sauce.  However, don't add too much, you don't want it to become watery.
Toss in fresh parsley and Parmesan (to taste).  Enjoy this dish warm or at room temperature.  It's delicious as a vegetarian meal or a killer side dish at a BBQ!
Roasted Tomato & Basil Pasta
Serves 2-4 as a meal and up to 8 as a side.
Ingredients:
1 quart size container of cherry or grape tomatoes
5-6 garlic cloves quartered
1 small-medium onion
olive oil
red pepper flakes
sea salt
fresh basil
Parmesan – optional
1 lb of pasta – linguine or angel hair is great if serving as a main course, but try fussili or shells if serving as a side.
Heat the oven to 400.  Rinse and cut the cherry tomatoes in half and quarter the garlic cloves.  In a glass casserole dish, toss the tomatoes and garlic with 1-2 tablespoons of olive oil, sprinkle with salt, add a few tablespoons of water, to coat the bottom of the pan, and roast for about 10-15. The tomatoes and garlic should both be tender and just starting to brown.
While the tomatoes are roasting, boil the water for the pasta and cut the onion in half and thinly slice.  Sautee with olive oil, a teaspoon of red pepper flakes, and a dash of salt until the onions are translucent. While everything is cooking coarsely chop 1/2 -1 cup of fresh basil.
When the tomatoes and garlic are roasted, add them to the onions and smash the garlic and some of the tomatoes with a fork to release the flavor and create the sauce.  Add about a half cup of pasta water to the sauce and keep another cup and a half to the side – just in case you need more.  Toss the pasta and sauce together.  After the pasta is coated, you may need to add a little more pasta water.  Continue to toss and then add 1/2 cup of the chopped basil.  When serving, garnish with chopped basil and Parmesan.
Enjoy!
|
Print