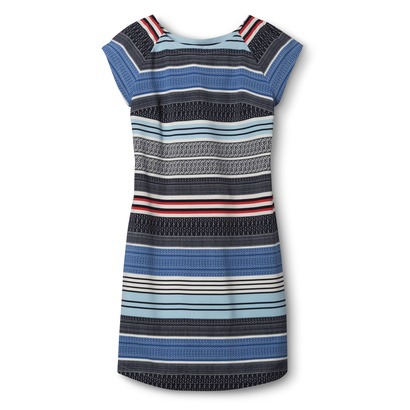 Stylish Savings
I recently found myself combing Target's women's section with a specific mission: find a great shift dress.  Sounds like it should be easy, right?  Not so much.
Granted, I am writing this as a 42 year old who has had two kids – meaning I don't want a mini dress, I want some hint of sleeves, and I don't want anything curve hugging. Lame, I know.
A serious shopping trip to Target takes some stamina, but when I glanced at my calendar and realized a host of summer functions were starting in mere weeks, I decided to brave the racks – and it paid off!
More Than Meets The Eye
To be honest, when I came across the Merona Crepe Shift Dress I didn't have high hopes – on the rack it looked sort of like a potato-sacky shirt.  But something told me to give it a shot – and I am so glad I did!  It was a great reminder that often times things do look way better on you than on the rack.  And the online photos don't really do it justice either, this one is worth trying on yourself.
Highlights are that it comes in three colorful – yet sophisticated – summer patterns, is a simple, non clingy shift shape, and – at least on me (I am 5'3″) it is knee length.  So, even for taller ladies it will still be a decent (not butt skimming) length.
I was so relieved, I snapped up all three patterns.  At $24.99 each, I just solved a summer wardrobe problem for $75.  Now that's Fab & Fru!
|
Print