Fab & Fru Protection For Your Face
I live in Los Angeles – where temperatures have been in the 100s this week.  All this heat got my friends and me talking about our favorite sunscreens…
My search for a new sunscreen all started last year when my (former) favorite facial moisturizer with sunscreen was reformulated – and ruined!  So I went on an all-out pursuit for a new sunscreen – and tried a lot of losers, so hopefully you don't have to…
The thing is, it's just not that easy to find a Fab & Fru sunscreen.  For us, it's not just about money – it's about the quality of product you are getting for the price.
We were only interested in natural, non-toxic sunscreens – which of course narrowed down our choices quite a bit!  And of the natural ones there are a lot of chalky, disappointing ones in the bunch.  I tried countless brands until I finally came across a winner!
London Calling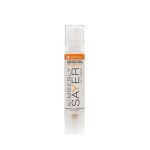 Kimberly Sayer of London Ultra Light Moisturizer – SPF 30 is my new Fab & Fru find!  Though you might be a bit put off by the $32 price tag at first – keep in mind is it for a huge 4 ounce container of the product.  So per ounce it actually costs the same as many drugstore brands like Neutrogena, which can run you about $14.00 for 1.7 ounces.
There's a lot to love about the Sayer sunscreen.  For starters, it's chemical free and made with certified organic ingredients.  And yes, she carries a full line of skin care products – we haven't tried the rest yet but are excited to do so.
When they say ultra light they are not kidding – it has a silky, featherweight texture.  Not only does it feel great going on, but it leaves no chalky after effect like so many others do.
Another Fab & Fru benefit: a little goes a long way.  I have never used more than 2 squirts to cover my whole face – I am still using the bottle I bought last summer!
Face The Facts
Remember, being Fab & Fru is about a lot more than just finding the cheapest product on the market –  it's about value and quality for the buck.  Though you can't find it just anywhere, we ordered our Kimberly Sayer moisturizer with SPF online and it was certainly worth waiting a couple days for.  Anyone else out there a fan of Sayer's line? We'd love to hear what you think!
|
Print