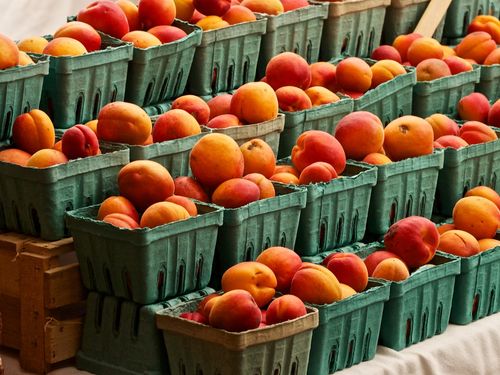 Fab & Fruity Summer Food
Being Fab & Fru is all about transforming the everyday into the extraordinary, right?  And with just a little creativity, it's amazing what you can whip up with ingredients you already have on hand.  Which brings us to the totally fabulous, elegant concoction of chilled peach soup.
Years ago, I was at a very glamorous wedding – and the first course impressed me so much I have been wanting to recreate it ever since…
We had soup bowls set in front of us, with justone slice of peach in each bowl.  Then, just as I was wondering if that slice was an entire nouvelle meal unto itself, a waiter ladled luxurious cold peach soup over the slice, and it tasted as lovely as it looked!
Peachy and Easy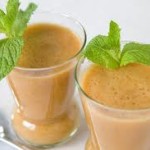 I've thought many times about recreating the glam "Four Seasons" peach soup.  And it dawned on me the other day as I was making a smoothie with some extra peaches (which are back in my kitchen thanks to my Fab & Fru fruit fly removal) that if I just tweaked the recipe slightly – and called it "soup"-  I'd have a whole new dish to add to my summer repertoire!
Since peaches are in season, you can find great deals on them.  It's the perfect time to serve up an elegant peach soup instead of a salad, as an unexpected brunch offering, or a light lunch.  Or put some in shot glasses for a fab hors d'oeuvre!
Really Easy Peach Soup Recipe
There are a ton of recipes out there – we like this one from Whole Foods because it uses ingredients I have on hand anyway and is super simple. It serves 6-8 – they also suggest you can substitute orange juice for apple juice. You can also try it with frozen peaches which will cut down on chill time!
6 large ripe peaches
2 cups water
1 cup apple juice
1/4 cup honey
1 lime, Zest and juice of
Salt and pepper to taste
Mint sprigs
Bring a medium pot of water to a boil. Cut a small "X" through the bottom of each peach, then drop them into the water to blanch for 20 seconds. Using a slotted spoon, transfer peaches to a bowl of ice water. When peaches have cooled, drain well then peel them, starting from the "X" at the bottom of each peach. Discard skin and pits and transfer the rest of the peach meat to a blender.
Add water, apple juice, honey, lime zest and juice, salt and pepper and blend until smooth. Transfer to a bowl, cover with plastic wrap and refrigerate until well chilled, about 2 hours.
Pour soup into bowls or cups, garnish with mint and serve.
What are your favorite fruit soup recipes? We'd love to hear from you! 
|
Print