by Brandi Savitt – July 14, 2014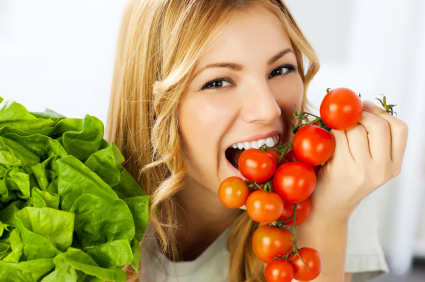 Glow from the Inside Out
Before you spend a small fortune on the latest skincare craze that promises the fountain of youth in a bottle – try food shopping instead.  Our skin is our largest organ, and when we feed her right, she glows!
Now, by no means are we suggesting you abandon your favorite face creams and products.  But for the healthiest, youngest looking skin, start nourishing yourself from the inside out.  Check out these amazing super skin foods – funny how they're also known to help lose weight, fight heart disease, cancer, diabetes – and other diseases… wink wink.
Hail to Kale
Leafy greens are the number one veggie to add to your diet for your overall health, but they are also key when it comes to your skin.  Besides being packed with all sorts of vitamins and fiber, kale and other leafy G's contain folate, which helps to maintain and repair your DNA.  Studies show that people who enjoy a couple of servings of greens per day have less reported skin cancers.  These veggies also help repair scars and blemishes faster too!
Good Morning Grapefruit…
And kiwi, strawberries, and any fruit or veggie high in vitamin C.  Vitamin C stimulates collagen productions which we all know helps our skin stay firm and smooths out the wrinkles.  Adding a 1/2 a pink grapefruit a day will go a long way!
Pass the Sweet Potatoes Please
Not only are sweet potatoes high in vitamin C, this skin loving super food also contains high levels of Vitamin A and beta-carotene.  Vitamin A (carrots are also a fantastic source) helps prevent the over production of cells in the outer layer of your skin -  and less dead cells means less clogged pores. Moreover, the substances found in many expensive skin-care products like retinol and retinoic acid are actually derived from Vitamin A.  –Plus beta-carotene combats the free radicals which result in skin aging faster – holla!
A Handful of Almonds
Loaded with vitamin E, almonds make an excellent snack that helps defend skin against sun damage.  Because vitamin E is an antioxidant, it also helps keep your arteries clear of harmful free radicals!
A Mean Marinara
Tomatoes are packed with lycopene (the phytochemical that makes them red), which helps eliminate skin aging free radicals caused by ultraviolet rays.  Cooking tomatoes actually helps to concentrate the lycopene levels – another reason to make a Sunday sauce… For a sweeter alternative, watermelon is also loaded with this wonderous phytochem!
Oh My Omegas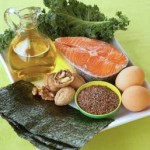 We can't seem to hear enough about Omega 3 fatty acids, but not only do these good fats help lower your cholesterol and boost your brain function- they're fabulous for your skin.  While salmon and other cold water fish are kings of Omega 3, flax seeds and walnuts are veggie alternatives that also pack a powerful punch.  Consuming Omega 3s, in quality food sources, helps to erase dark spots, fade fine lines and make your skin softer!
The Wonders of Dark Chocolate
Yep, it's true, chocolate made the list!  The flavonols and antioxidants found  in dark chocolate absorb UV light, help protect and increase blood flow to the skin, and improve skin's hydration and complexion.  Eating a SMALL (no more than 3 oz) amount of 70% or higher dark chocolate is the key.  You're average candy bar ain't gonna cut it.  –The same flavonols are found in blackberries, cherries, blueberries.
By adding high quality, organic whole foods to your diet – we promise, you'll be glowing from the inside out in no time!
What are your favorite skin loving super foods?!
|
Print