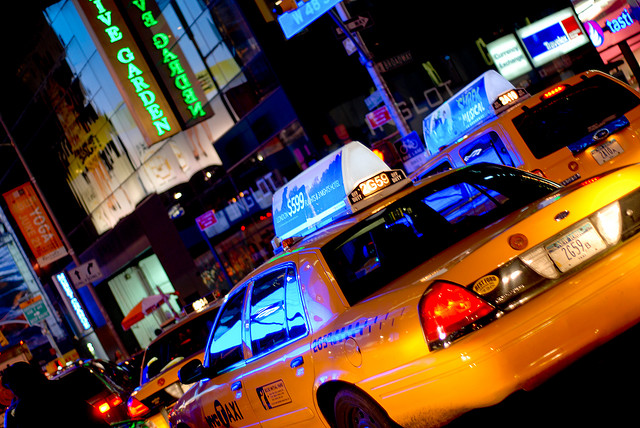 A few nights ago after work, Abby had dinner with friends and then hailed a taxi home to Brooklyn.  As most of you New Yorkers know, the five minute ride over the bridge to Brooklyn at night still holds some stigma for a few reluctant cabbies who either don't know their way around all that well, or fear they'll get stuck in traffic without a return fare back to Manhattan.  Needless to say, Abby was an old pro in these situations.  She gave the cabbie the address, told him to go over straight over the Brooklyn Bridge, and that she'd give him directions once they were on the other side – even though she thought it was his duty to know where he was going throughout the city…
A minute into the ride, Abby's boyfriend called her cell, and she got a little distracted… When she looked up, she noticed that not only was she already over the bridge, but the taxi driver had taken a wrong turn and neglected to ask for directions.  Abby kept her cool, but she was peeved.  Not only were they now circling through a bunch of one-way streets, but the cabbie was giving her a little attitude.
Ten minutes and a few extra bucks later, the taxi pulled up in front of Abby's building.  Typically generous with her tipping, Abby decided to only give the driver a $1 tip.  He didn't like that one bit.
Was it the driver's fault for not speaking up for directions, or was it Abby's fault for not paying attention and guiding him as planned?  Should she have tipped him the standard 15-20%, or was she justified in tipping him less?  Tell us what you think!
|
Print