by Stephanie Berenbaum – Updated August 8th, 2014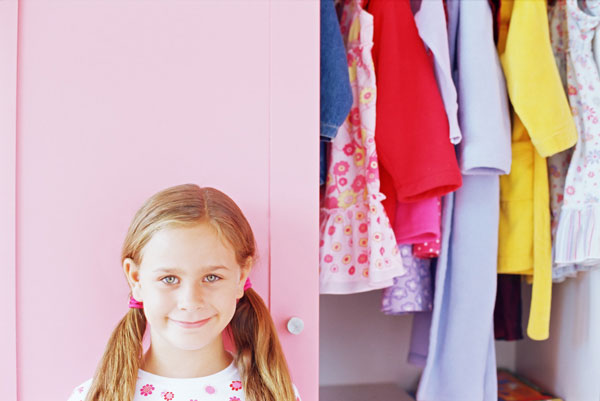 Swap Before You Shop
Trying to budget for your kids' back to school shopping?  Score some serious savings by taking advantage of a very Fab & Fru fashion coup: SWAPPING!  It's a great way to clear out your closets and supplement your children's wardrobe – for free.  Plus, many people are more comfortable with the idea of used clothing if they know where it is coming from – rather than if it just came from a random resale shop…
Easy Peasy Prep
Right now is the perfect time to organize a back to school swap.  All you need to do is send out an email to your friends to bring their used kids clothes to your place a day or two before the actual swap so you can organize the piles.  Clearly, your payment for organizing and hosting is that you get first crack at the clothes!
You can use your dining room table, chairs and sofa as display centers.  Just make signs (have your kids help for a fun activity!) to help sort the clothes by gender and age, whip up a pitcher of lemonade and some cookies, and you are set to swap!
Tips For A Smoother Swap
The day before the swap, be sure to send a reminder email and tell your friends to remember to bring their own bags.  Also, make it clear that at the end of the event you are donating the leftover clothes to charity so you don't get stuck sorting and returning remaining items to original owners.  And for more great trips on hosting a swap, be sure to check out The Swapaholics website – a great resource to help you swap your way to major savings!
Big Savings For Small Kids
Realistically, if you have teens or tweens they already may be super particular about their clothing.  But for babies and younger children (particularly if you have young boys like I do who don't give a hoot what they wear) a back to school swap can be a huge money saver.
Just be sure to swap before you head to the mall – that way you can stock up on free finds first and just supplement at the stores.  Then it's time for the really fun part – deciding what to do with all the money you'll save!
What was the best treasure you've ever found at a swap meet? Fab & Fru wants to know! 
|
Print