By Brandi Savitt – August 4, 2014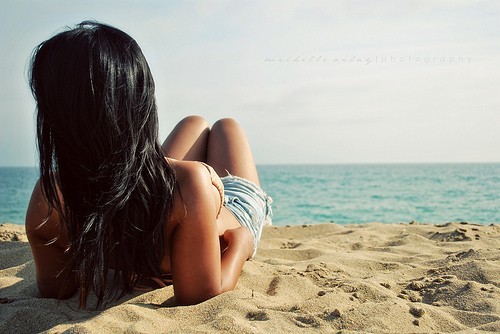 Fab & Fru Tips for Lustrous Locks
The sun, the ocean, the pool, the heat – everything we love about summer wreaks havoc on our hair.   So, stop doing damage and start hydrating and replenishing your locks now with these easy and affordable tips!
Use a Leave in Conditioner
Help protect your hair from drying out by applying a small amount of leave in conditioner to your hair while it's wet. A leave in conditioner with some added UV protection is even better!  Not only does it help coat the hair and protect it from the sun, chlorine and salt, it will also help prevent highlighted hair from lightening too quickly and dark hair from turning brassy or red.
Wet Your Locks
Before you go swimming in a pool or ocean, take a quick shower or spray some water on your hair.  Dampening your hair first adds an extra layer of coating to the hair so it absorbs a little less chlorine and salt – both are extremely drying. This trick will also help blondes from turning green from chlorine!
Wash & Condition after a Day at the Beach
After a day at the beach or the pool, it's important to rinse or wash the salt and chlorine out of your hair.  Use a nourishing shampoo and conditioner to help restore and hydrate your locks.
Deep Condition more often
After a long day of sun exposure (trips to the beach, hiking, outdoor sporting activities) it's a good idea to give your hair a nice long hydrating treatment to help reverse any damage. We just love the Indian tradition of deep conditioning your hair with coconut oil – see below!
Coconut Oil Hair Treatment
Heat up a few tablespoons of organic extra virgin coconut oil on the stove or in the microwave until melted (at room temperature, coconut oil is solid).
To apply,  dip your fingers into the warm oil and begin massaging it into your scalp. Then thinly coat your hair from root to tip. Braid your hair, or put it in a bun and cover your pillow with a towel.  It's best to leave the treatment on overnight before washing it out.  But if you are in a hurry a quick one hour treatment will give your hair a little boost!
If you do this treatment at least once a week, you will notice how much softer and stronger your hair becomes in just a couple weeks.  Bonus: coconut oil is rich in lauric acid which helps prevent hair loss – so let the fellas in on the secret.  Extra bonus: it's also thought that it helps reduce grey hair too!
Tip: Don't use so much oil that you'll need to shampoo your hair twice to get it out.  Shampoo is drying, and you don't want to take out all of the moisture that you just added.  A small amount will do the trick, just apply it to your scalp and ends thoroughly!
For more all natural nourishing hair care tips from India, click here. And enjoy the rest of the summer with beautiful hair!
|
Print