by Stephanie Berenbaum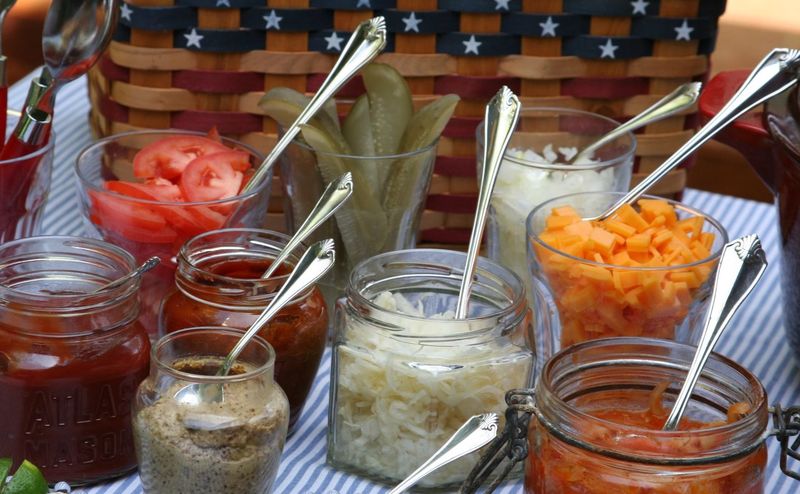 Turn A Boring Frank into a Fabulous Feast
Planning your menu for next weekend?  As you might remember, our favorite Fab & Fru spread for Labor Day is the Regional Hot Dog Bar.  All it takes is a little imagination to make cheap hot dogs seem – frankly - a whole lot more exciting!
Setting Up Your Regional Hot Dog Bar
When setting up a hot dog bar, it is particularly frugal to start with the most famous regional styles of the bunch: the Chicago Style hot dog and New York Style hot dog.  By 'marketing' your get together as a 'Regional Hot Dog Bar', you turn boring franks into a festive theme!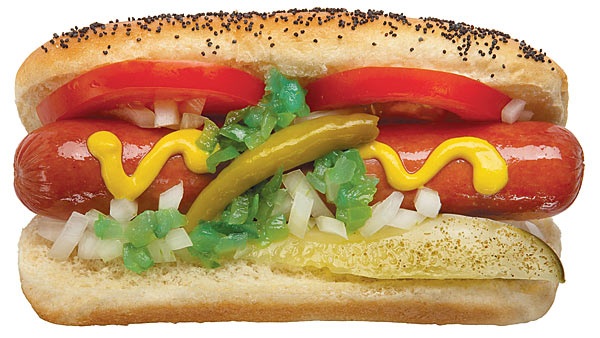 *Recipe courtesy of Fluky's Chicago Style Hot Dogs
Ingredients
Boiled Hot Dogs
Poppy Seed Buns (S. Rosens are a Chicago favorite)
Yellow mustard
Bright green (Neon) sweet relish
Chopped Onions
Kosher Dill Pickle Spears
Tomato Slices
2 Serrano Sport Peppers (they are HOT)
Dash of celery salt
Instructions
Heat hot dogs in boiling water to 170 degrees.  Put the hot dog in a steamed poppy seed bun.  Pile on toppings in this order: Mustard, Relish, Onions, Pickle, Tomatoes, peppers and celery salt.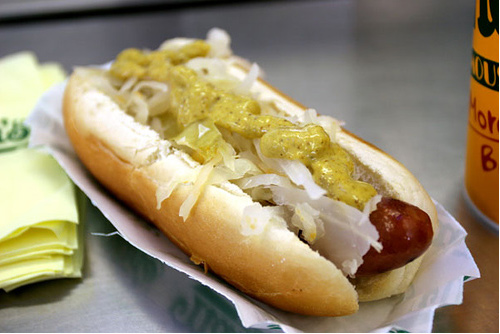 Brandi is a New Yorker now, so let's check out the recipe for those famous New York City "Street Cart Dogs" – sometimes affectionately referred to as "Dirty Water Dogs!"
Ingredients
Boiled Hot dogs
Plain Buns
Deli Mustard
Sabrett's Onion Sauce
Sauerkraut (optional)
Instructions:
The classic NYC cart dog is boiled in water, with onion sauce and deli mustard and sometimes sauerkraut, on a plain hot dog bun.  You can find recipes claiming to replicate the traditional Sabrett Onion Sauce online, but at only about $3.75 for a package, you might as well buy it.  lt looks like even Wal-Mart is carrying it these days!
**If you prefer to go the way of a traditional grilled New York weiner (a la Nathan's) all you need to do is grill your franks instead of boil them, and top with brown mustard and sauerkraut and you are good to go!
What's Your Favorite Topping?
Invite guests to bring their own favorite toppings to represent their regional hot dog favorites (apparently Arizona and South Carolina also have distinct dogs to call their own)!  Just have some blank index cards and pens on hand for them to make signage for their dogs.  Not only will this cut down on your expenses, but it's a fun conversation starter sure to get your guests mingling in no time.  And for the perfect beer to wash the dogs down, be sure to check out our article on The Best Cheap Beer!
Keep It Cheap!
Aside from their obvious fame, we like New York and Chicago dogs because the toppings are inexpensive.  Once you start getting into toppings like bacon, chili and avocado, the prices start climbing.  Also, since both Chicago and New York cart dogs are boiled, you don't even need a grill to cook them up!
Have Fun Feasting!
To make your gathering festive, set up a buffet with specific instructions of how to create the authentic regional dogs – and have pictures of the finished products set up.  And make sure you encourage guests to bring their own favorites – you might be surprised to learn just how good a Cincinnati Cheese Coney truly is…
My Kind Of Town


Both Brandi and I are from Chicago, and in my book there is nothing as good as our hometown's celery salt and neon relish – but we know you all have your opinions — which is why we want to hear from YOU!  Tell us about your hometown hot dog – what's the craziest one you've ever tried?
Here's to a Labor Day Full of Hot-Dog Happiness!

|
Print