by Brandi Savitt – revised September 15, 2014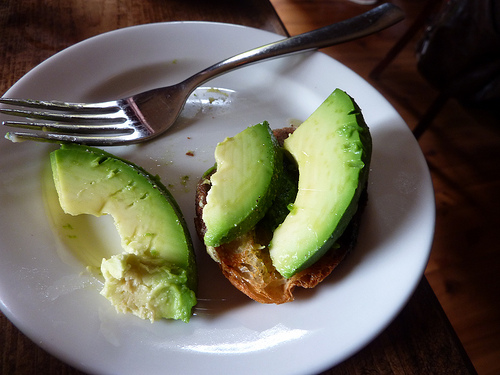 Fancy & Frugal Anytime Appetizers
This fall and holiday season, make an impression on your guests with these easy to make, elegant appetizers.  Our 3 vegetarian crostini variations are always an instant dinner party sensation.  Make one kind or a sampling of all three recipes – they're bite sized, beautiful, and a surefire crowd pleaser!
Quality & Freshness Count
The difference between making a good crostini and an excellent one is starting with the freshest ingredients.  None of the ingredients in the following recipes is expensive, and a little will go a long way – so don't skip on quality and taste just to save a few pennies…
Start with Good Bread
The first step in creating a perfect crostini is a good French baguette.  One large baguette will yield about 40-45 crostini.  Slice the baguette into 1/4 inch slices, but cut the bread at a slight angle to get larger pieces.  Place the slices onto cookie sheets and lightly brush each piece of bread with olive oil. Toast the crostini in the oven until they begin to brown around the edges and the oil bakes in.  Do not over toast.  The bread is best if it remains crispy on the outside but slightly chewy in the the center.  Let the crostini cool.  –This step can be done in advance.
Avocado & Pesto Crostini
*Makes 12 crostini
Ingredients:
1/2 cup of Fresh Pesto
3 Ripe Avocados
Ground Black Pepper
Sea Salt
When you are just about ready to serve the appetizers, assembly of the crostini begins.  Of course, you can easily make your own pesto by blending (in a blender or mixer) a big bunch of fresh basil with a 1/4 cup of olive oil, 1/4 cup of pine or walnuts, and 1/4 cup of grated Parmesan cheese.  Or….  buying a $3 container of fresh pesto from Whole Foods or Trader Joe's will do the trick in a pinch too!
Instructions:
Spread a layer of pesto on each crostini.  Cut each avocado into halves and slice.  Gently pile each crostini with avocado slices then sprinkle each creation with salt and pepper.  -Each avocado should make 4 crostini.
|
Print
Pages: 1 2