by Stephanie Berenbaum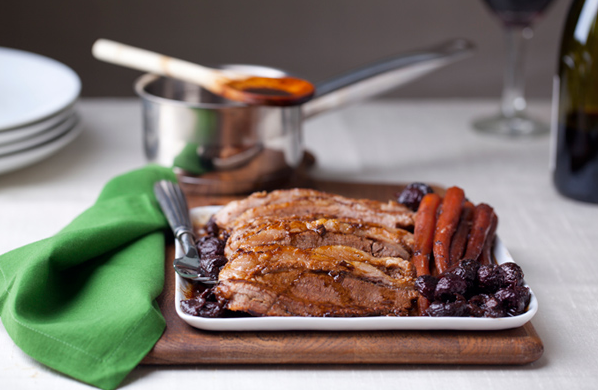 One Pot Wonder
Whether or not you celebrate Passover, everyone loves a good brisket. And this recipe is not only delicious, it's Fab, Fru & Freezable!
Lots of Taste from a Few Ingredients
Other than the meat, this recipe only uses a few ingredients you probably have sitting in your pantry right now.  You just need to buy a "First Cut" brisket – a 4 pounder should only set you back $25-$30.  The other ingredients combined will only run you a few bucks.  And you can really feed a crowd because a little goes a long way with this hearty dish!
Easy-Freezy Time Saver
As if you thought this brisket bonzanza couldn't get any better – guess what – it freezes like a DREAM!  So it's the perfect thing to make now and stick in the freezer.  Plus, even though the cooking time is long, the prep time is like maybe …5 minutes?  So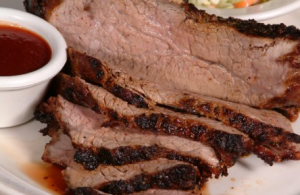 now you've got no excuse (unless you're a vegetarian).
*If you are not freezing it, then make your brisket the day before you intend to serve it – so the flavors really have a chance to blend and the meat becomes super tender.
Preheat Oven to 375 degrees
Ingredients:
One First Cut Brisket (poundage depends on how many guests you are having – I usually go with around 4 pounds even with a smaller crowd so I have leftovers)

One bottle Heinz Chili Sauce
Water
Dark Brown Sugar (light brown works just fine too if that's what you've got)
1 Thinly Sliced Onion
Put the brisket in a baking dish with sides – (simple Pyrex works great)  I like to put it fat side down.  Slice the onions and place on top of brisket – enough to cover it pretty well.
Cook brisket at 375 for about 30 minutes – uncovered – in oven.  This is to brown it.
In the meantime, pour the chili sauce in a bowl and use the sauce bottle to add three bottles full of water to the chili sauce. Throw in ¾ cup brown sugar and mix it up.
When you take the brisket out of oven after 30 minutes, pour the sauce over the brisket, cover tightly with foil.  Turn the oven down to 325 degrees.  Stick the brisket back in and cook it – for an hour per pound (this includes the 30 min you have already done).
My mom Nancy's recipe calls for a longer cooking time than others, and as a result makes the meat so tender you can't believe it!  You know it's done when a serrated knife goes through it like butter.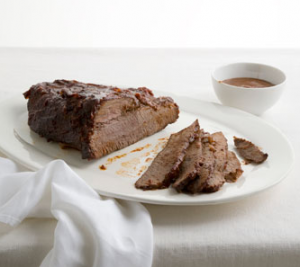 When done, take out and cool.  Then refrigerate.  After it has been in the fridge for a while and is really cold (yes, I usually do this part in the middle of the night), slice the brisket – going against the grain. Do NOT try to slice it when still hot or it will fall apart!  Then spoon the sauce over the whole thing again so the pieces are swimming in it.  Cover it back up and put back in fridge until next day (or freeze).
The slices sitting in sauce over night become super tender and tasty!   Then just pop in oven (covered tightly with foil) to gently reheat at about 275 or 300 for 30 min or so (depending on size).  We hope this recipe has inspired the Jewish mother in all of us!
|
Print