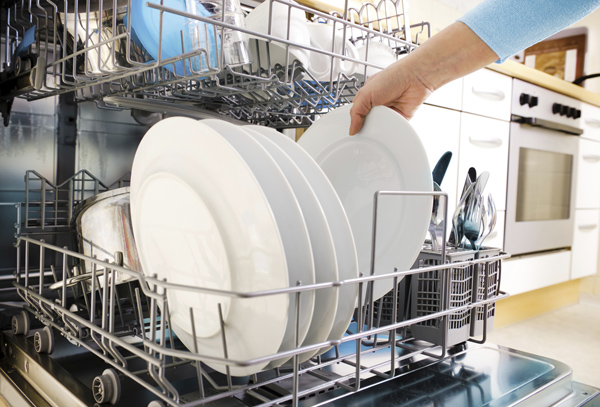 Fab & Fru Germ Fighting
I admit it, I'm a bit of a germaphobe.  Which is why I cringed when a friend told me that all these years I should have been disinfecting my dishwasher.  I always assumed that when you run your dishwasher, it keeps the appliance clean while cleaning your dishes.  Apparently, not so much.
Since a build up of food, bacteria and general gunk can lead to less than sparkling dishes – and illness – I figured I'd better give my dishwasher some TLC, pronto!
Once A Month Maintenance
Luckily, there is a totally frugal – and eco-friendly – way to clean your machine.  According to All You magazine, all you need are two penny pinching favorites: vinegar and baking soda.  They recommend doing the following once a month:
To Disinfect: Pour vinegar into a dishwasher-safe cup, then place the cup upright on an empty dishwasher's top rack. Run a full cycle, using the hot-water setting. Next, deodorize the machine by sprinkling a cup of baking soda on the bottom of the tub and running the dishwasher on a half-cycle with hot water. Leave your dishwasher door open for a few hours after to air it out.
We came across other, much more intricate directions for cleaning the dishwasher, but Fab & Fru loves this one from All You because it's so easy and affordable.  Fab & Fru wants to know – do you regularly clean your dishwasher?  What method do you use?
|
Print