The Effects of Retail Therapy
A few days ago, I had dinner with my close friend Liza.  I was already at the restaurant waiting for her when she showed up carrying shopping bags from three different stores.  Her cheeks were flushed, and she had a devilish grin on her face.  What did I miss? Did she just have sex in the bathroom with a stranger?!  Or could her slightly disheveled yet ecstatic state be the result of her recent shopping spree?
It turns out that, Liza, a lawyer, was in the middle of one of most stressful cases of her career.  After a series of super late nights at work and a day of hardcore negotiations, she was in desperate need of a little retail therapy.  A pair of designer shoes, a new scarf and a bottle of perfume later, Liza felt a calming sense of relief. She was happy – even if just for the moment.
I was fascinated. Does shopping really give people that kind of pleasure? I guess I have felt it myself at times, but have never witnessed it in this way before…
But over the course of our meal, I saw Liza's calm and satiated mindset slowly creep back into worrying about work. By the end of our meal, her glow was gone. She even mentioned that she felt slightly guilty for splurging on things she didn't need…
This led me to want to know more about the effects of retail therapy on shoppers.  After reading several articles, I stumbled upon an fascinating CNN piece by Peggy Drexler.  Here are the highlights:
Are You an Emotional Shopper?
Shopping has long been a tool for the stressed-out, brokenhearted or just plain bored; some figures, including a 2012 survey by online retailer eBates put the number of Americans who go shopping to feel better at more than half!
According to Drexler, a great dress or a sharp, well-fitting suit can soothe the soul (and it's not just women who shop to soothe). Gratification can positively effect your mood, provide a needed confidence boost that helps you land a job, or give you the inspiration to take the next step in a relationship.
One 2011 study noted that 28% of shoppers had purchased something to celebrate an occasion or personal victory and 62% to cheer themselves up. Indeed, studies show, money can buy happiness.  –But for how long?
The Thrill of the Chase
Retail therapy works, but not in the way we think..  The happiness that purchasing something provides is derived not from acquiring the item, or from the item itself, but rather wanting it, longing for it, and anticipating incorporating into your life. Drexler suggests that the thrill and release one gets from shopping is actually the result of desire, more than the act of fulfilling that desire…
Emotional shoppers feel real joy, excitement, optimism and peacefulness when they think of their future purchase. But often after the purchase is made, and the anticipation fades into reality, what follows is what researchers have called "hedonic decline." Happy feelings dissipate. Consumers are either left wanting more, or they have buyer's remorse.
Retail Reality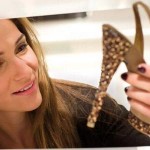 Indulging in retail therapy once in awhile can be good for the soul – and worth the damage to the wallet. But using shopping as your only emotional outlet is a HORRIBLE habit to get yourself into.  Before you hit the stores to blow off steam, take a moment and follow Drexler's advice below.  No amount of momentary happiness is worth years of debt!
Opt for experiences over stuff. Plenty of studies show that buying experiences is more satisfying that buying things. You don't have to quit your retail therapy cold turkey, but try to weave in experiences — trips, sporting games, theater — that might provide some added meaning.
Play hard to get. Resist making impulse purchases!  Instead, let yourself think about the item for as long as you can. (This is one key to the success of Pinterest, where users can post photos to create a public sort of "wish list" of ideas, goals, and, yes, goods.)
Limit flash sales. Or limit even buying anything simply because it's discounted. Flash sales foster quick and easy purchasing, but as such limit the beneficial impact of desire. There's no chance to feel the rush of wanting or to envision how an item might make your life better before it's put into the cart, paid for and at your door.
Shop in person. Participate in the joy of buying things from a brick-and-mortar store!  Online shopping is a relatively mindless activity that, while relaxing, offers little in the way of engagement with others. Shopping in the presence of people, though, fosters a sense of connection to others, which can increase levels of happiness and satisfaction derived from the experience.
Spend within your means! Perhaps the most crucial conclusion made in the study of hedonic decline is that more really isn't better – and that wanting a new car is as effectual, mood wise, as having the new car.
Tell us you best retail therapy story!
|
Print